The internet has given people the opportunity to search for vehicles beyond their immediate geographic area and made it easy purchase any car at any time. For example, if you in California and are on the market for a vintage VW Bug, it is just as easy to buy one in LA as one in Colorado. However, getting that vehicle home can be a little more complicated than driving it out of a dealership if it happens to be hundreds or thousands of miles away. In these situations, the easiest thing to do may be to hire a professional shipping company to transport the beetle for you. While most companies are professional and reliable, it is important to do a little homework before handing over the keys to a stranger.

With so many shipping companies to choose from, finding one that services the area should not be a problem. However, before you sign anything you should make sure that the carrier is registered with the Department of Transportation. To do so, visit www.safersys.org and look up the company to make sure they are licensed to ship vehicles. From the same site you will also be able to check the companyís insurance information and compare it with the information that the company should provide you with their price quote. Make sure that the policy is valid and that the coverage is sufficient for your beetle before moving on. If you feel that the minimum policy offered is insufficient for the worth of the car, feel free to inquire about additional coverage.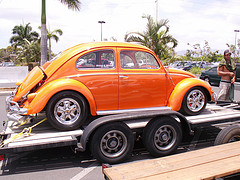 Once you have determined that a shipping company is legal and insured, you should ask for customer references. These are often the primary way that a moving company provides proof of experience and competence, so they should be eager to provide these to you if they are not listed on their website. You can also look up the company with Better Business Bureau for additional information on their history and records. Use your intuition during this process and donít feel pressured to go with a specific company against your better judgment.
The last step in the selection process is to review all details of the shipment to make sure that you and the carrier are on the same page. Ask questions regarding anything that you are unsure of including pick-up and drop off schedule, the payment structure and any policies or restrictions the company has for the process.
Written by Ben Leffler of uship.com, an online marketplace for Vehicle Shipping.