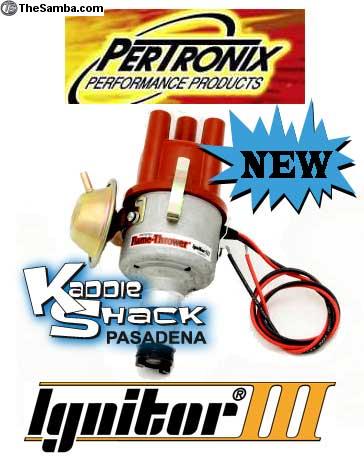 BRAND NEW: Pertronix Ignitor III SVDA Distributor Price: 199.95
BRAND NEW DESIGN!

This is the very BEST OF THE BEST in SVDA distributors available, made in USA by Pertronix. For your stock carbed VW, or your high performance beast, these will provide the smoothest in performance, reliability, and mileage.

Features:
- Multiple sparks
- Digital programmable rev-limiter
- Adaptive dwell
- Circuit protection

Enjoy MADE IN USA Pertronix quality with this 034 style mechanical/vacuum advance SVDA distributor. It comes with all the best stuff from an 009, an 010, and an 050 and put it all into one! It also features a vacuum assisted advance mechanism which helps eliminate "flat spots" and improves mileage. Best yet, it already comes complete with the Pertronix Ignitor III electronic ignition system pre-installed!

The ignitor III features a variable dwell which maintains peak energy throughout the entire RPM range, reducing misfires while improving engine performance. It develops an average of 4 times more available energy between 3000 and 5000 RPM. and double the available spark plug voltage. Adjusts spark timing at higher RPM's to comensate for the enherent electronic delay. Senses startup and develops more energy for quicker, easier starting. The multiple sparks provide performance normally only provided by a much higher priced product. Built in digital rev-limiter can be programmed very simply with a 9 volt battery to proctect your engine against accidentally over-revving when you miss a shift, are in the water box at the track, or racing your buddy. Probably the best and most practical feature: If you accidentally hook it up backwards, it protects the components inside from failure.

We recommend matching with a Pertronix 0.32 ohm ULTRA LOW RESISTANCE coil for best operation. We also recommend installing Pertronix USA spark plug wires as well, just to complete your ignition upgrade to a complete Pertronix system.
Our favorite choice for many street-driven engines.

Order here:

https://shop.kaddieshack.com/NEW-Pertronix-Ignitor-III-SVDA-Distributor-D7182504.htm

Installation and set-up video:

https://www.youtube.com/watch?v=n_xcrOD4Xqc

_________________
Kaddie Shack -- High quality parts for air-cooled VW's. -- COME VISIT OUR RETAIL STORE AT 1609 WALNUT ST. IN PASADENA! -- We carry a complete line of quality parts and back it up with great service and help.

Kaddie Shack 5 minute YouTube Tour:
http://www.youtube.com/watch?v=gCGUlwzf3js

Our phone# is 714-752-3766, email:

[email protected]

.
Open M-F 10AM to 7PM

All of our Kadron carburetors and SVDA distributors come with a 90 day warranty & free tech service help. We want happy customers & repeat business. We specialize in Kadrons, & can rebuild, re-bush, and modify yours for use with any engine. They'll be BETTER THAN NEW when we're done with them.

Performance engines and front beams built to order - In-house dyno.
Advertiser information

Ad information

Advertiser:
Name:
Member since:

57baja
The Kaddie Shack
April 15, 2008


Location:
Ad placed:
Ad renewed:
Ad last edited:
Views:
Category:
Payments accepted:
Pasadena, California, USA Map it
Thu Apr 03, 2014 2:58 pm
Mon Jul 27, 2020 6:10 pm
Wed Jun 19, 2019 6:30 pm
6907
Vendors - New Parts - High Performance/Engine
Cash
Paypal
Money order/Bank check
Personal check



Watch this ad |
Watch this seller
Share:
Other ads from 57baja
See all | See ads in this category
| | | | | |
| --- | --- | --- | --- | --- |
| LP HD Front Sway Bars: Stock, Narrowed, Lowered | Kadron Jetting Service | Drop Lowered Spindles for Ball Joint Drum Brake | Adjustable Spring Plates - Swing Axle | Drop Lowered Spindles forLink Pin Front End |