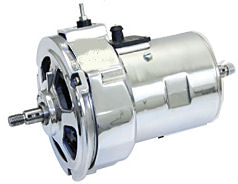 Alternator $74.95 W/Warr. 55, 75, 90 Amp Price: 74.95
New 55 Amp Alternator w/1 year warranty $74.95, Do not let the price scare you, these are great alternators. If you are paying less than $200.00 for a 55 amp Alternator from anyone else, you are getting this same alternator. I personally run one on my own vehicle. I have sold alot of them with great results. We stand behind them. Also available are: New 55 Amp Chrome $99.95, New 75 Amp High Output $99.95, New 75 High Output Chrome $129.95, New 90 Amp Plain(USA) $169.95, 90 amp Polished (USA) $199.95 I can ship these Alternators in a US Postal Flat Rate Box by Priority Mail for $17.50 to anywhere in the United States. You will have it in 1-3 days. (Post Office Time Estimate) I usually ship the same day when possible. Call (951) 781-0452 or Visit us at: www.carcraftstore.com See all our other parts on the Samba by clicking the lower left link.

_________________
Visit us at www.carcraftstore.com Shipping & payments can be done through the shop by Master Card, Visa, Discover, or Postal Money Order.
Advertiser information

Ad information

Advertiser:
Name:
Member since:

Car Craft
Ron
May 13, 2004


Location:
Ad placed:
Ad renewed:
Ad last edited:
Views:
Category:
Payments accepted:
Riverside, California, USA Map it
Thu Jun 04, 2015 2:18 pm
Tue Jan 15, 2019 3:31 pm
Tue Jan 31, 2017 11:50 am
12303
Vendors - New Parts - High Performance/Engine
Cash
Money order/Bank check
Credit cards



Watch this ad |
Watch this seller
Share:
Other ads from Car Craft
See all | See ads in this category
| | | | | |
| --- | --- | --- | --- | --- |
| $569.95 Stock, Freeway Flyer $799.95 | Billet Lifters - Scat | 48 IDA's (Empi Version) | 5 Lug Rear Disk Brake Kit | Disk Brake Conv. w/dropped spindles |