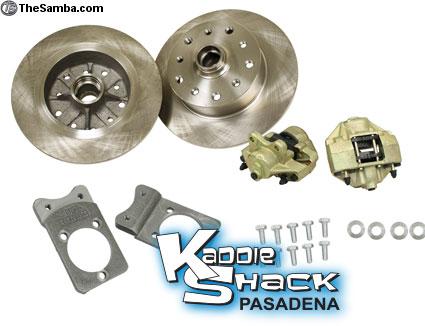 Porsche/Chevy Disc Brake Kit, can press bearings Price: 289.95
Want to convert your front wheels to disc brakes, while being able to use Porsche or Chevy wheel pattern? These rotors are double-drilled for both patterns.
Here's an easy upgrade for your VW Type 1. Swap your old drum brake system for better stopping power, and less maintenance. This kit features Ghia style calipers and rotors, so replacement brake parts can be easily sourced when replacement time is necessary. Heavy duty cast caliper brakets are provided for easy installation and superior strength. Swap your existing wheel bearings from the drums you have and install in the rotors, or we can supply new bearings. We can even pre-install the races for you if you prefer!

If ordering bearings, we need to know if you have the "early" ones or the "late" ones, as the spindle diameter is larger for the late bearings. Don't assume these cars have the correct front end components on them. They're over 40 years old and many have been replaced! We've seen early front ends on late cars, and late ones on early cars. Here's an easy way to tell:

The "early" ('66 to early '68) spindle diameter is: 27mm (1.06") at the inner wheel bearing mounting area

The "late" (later 68 +up) spindle diameter is: 29mm (1.14") at the inner wheel bearing mounting area

NOTE: We recommend using a press to install the wheel bearing races into the rotors. This brake kit will only work with stock style drum spindles. If you have dropped spindles, you'll need to replace the dropped spindles with ones compatible with disc brakes. If you want drop spindles with disc brakes, you'll want to purchase a drop spindle/disc brake kit Give us a call or shoot us an email with any questions regarding this conversion.

We have a link to an installation tips video at KaddieShack.com or you can watch here: https://www.youtube.com/watch?v=2rustBbto50

Order here:
http://shop.kaddieshack.com/Bolt-On-Ball-Joint-Disc-Brake-Kit-Porsche-5x130mm-GM-5x475-22-2985.htm

_________________
Kaddie Shack -- High quality parts for air-cooled VW's. -- COME VISIT OUR RETAIL STORE AT 1609 WALNUT ST. IN PASADENA! -- We carry a complete line of quality parts and back it up with great service and help.

Kaddie Shack 5 minute YouTube Tour:
http://www.youtube.com/watch?v=gCGUlwzf3js

Our phone# is 714-752-3766, email:

[email protected]

.
Open M-F 10AM to 7PM

All of our Kadron carburetors and SVDA distributors come with a 90 day warranty & free tech service help. We want happy customers & repeat business. We specialize in Kadrons, & can rebuild, re-bush, and modify yours for use with any engine. They'll be BETTER THAN NEW when we're done with them.

Performance engines and front beams built to order - In-house dyno.
Advertiser information

Ad information

Advertiser:
Name:
Member since:

57baja
Kaddie Shack
April 15, 2008


Location:
Ad placed:
Ad renewed:
Ad last edited:
Views:
Category:
Payments accepted:
Pasadena, California, USA Map it
Thu Jun 04, 2015 5:17 pm
Today 5:23 pm
Wed Jun 19, 2019 6:17 pm
876
Vendors - New Parts - General Parts
Cash
Paypal



Watch this ad |
Watch this seller
Share:
Other ads from 57baja
See all | See ads in this category
| | | | | |
| --- | --- | --- | --- | --- |
| Pertronix Billet Flamethrower Distributor 019 050 | Kadron Jetting Service | LP HD Front Sway Bars: Stock, Narrowed, Lowered | BRAND NEW Kadron 44mm Throttle Bodies | Pertronix 009 010 050 Distributor - ON SALE NOW |