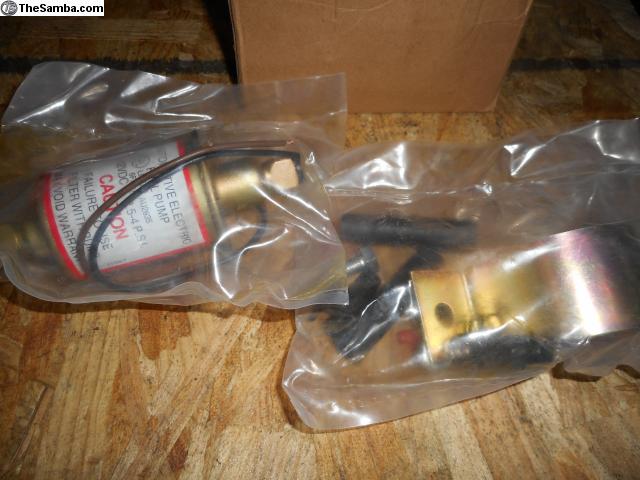 New electric low pressure fuel pump Price: $40 shipped
This pump is designed to be used with carburetors.

Comes complete with 2 pieces of 8mm barb hose straight fittings and inlet filter unit

Compatible with Petrol, Diesel, Fuel Additives, Bio Diesel, Blended Alcohol Fuels and Racing Fuel Octane Booster Additives

Shipped in the US lower 48 only

_________________
Bugoholics
1215 Heights Street
Pasadena, TX 77503

To pay with a Credit Card, please request an invoice and include your e-mail address.

Bugoholics is an Air-Cooled Volkswagen Parts & Repair warehouse located in Pasadena, Texas. We have been in business, at the same location, for 25 years. From custom built engines and trans-axles, to daily maintenance and care, we're here for all of your air-cooled VW parts and repair needs. We view this as not just a job, but an addiction. We are the Bugoholics.

See bugoholics.com for more information. http://bugoholics.com/ All used parts are sold as is - no returns. Please review ad carefully and ask questions before you agree to purchase any item.
Thanks!
Advertiser information

Ad information

Advertiser:
Member since:

bugoholics
August 16, 2005


Location:
Ad placed:
Ad renewed:
Ad last edited:
Views:
Category:
Payments accepted:
Houston area, Texas, USA Map it
Tue Jan 26, 2016 3:18 pm
Tue Aug 07, 2018 7:40 am
Mon Oct 31, 2016 10:42 am
409
Vendors - New Parts - General Parts
Cash
Paypal
Money order/Bank check
Credit cards



Watch this ad |
Watch this seller
Share:
Other ads from bugoholics
See all | See ads in this category
| | | | | |
| --- | --- | --- | --- | --- |
| New Red, Blue, Black ignition plug wire set | New Vacuum advance Distributor complete kit! | Cast 8 Dowel Lightened Flywheel | Auto meter volt gauge | Vacuum chamber |