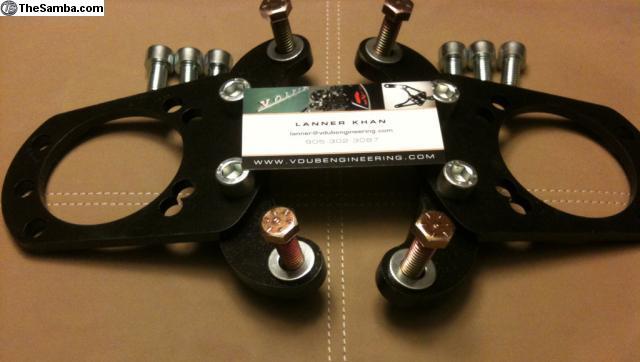 VdubEngineering: Wilwood front brakes for Bug Price: $110USD
Bolt on brackets that allow the use of Wilwood Dynalite 5.25" 4 pistons calipers with stock VW disk (Ghia disk). Use the calipers for .38" rotor, 1.38" pistons (pn:120-6808). Will fit: 

-1302/1303 drum spindle 
-stock height BJ drum spindle 
-dropped BJ drum spindle 

Includes mounting hardware as shown. Get Empi 18-1102 1/8npt to M10 fitings that allow the use of stock vw lines. 

Brackets also available for Type 2, please inquire.

VdubEngineering is an industry leader in performance brakes and suspension parts for aircooled VW platforms. VdubEngineering was started in 2001 by Lanner Khan, a mechanical designer who personally designs all our products using sophisticated CAD software. From there all parts are laser cut for precision, and machined in-house. VdubEngineering is not a distributor of parts, rather we design, manufacture and test all the products we sell. This hands on approach gives us complete control over quality, inventory and pricing that allows direct-from-manufacturer pricing direct to the general public (ie, no middleman). We are customer driven and take what it takes to make the customer happy, and are always welcoming to new ideas to fill void in the suspension/brake market. Feel free to approach us for your custom manufacturing needs. 

www.vdubengineering.com

_________________
Please no dreamers, time wasters, tire-kickers, low ballers or Nigerian investors. Paypal accepted. I ship worldwide.

All parts are sold for off-road use only. VdubEngineering takes no responsibility for installation or modifications done by customer. By purchasing this product, the customer takes full responsibility for any use, and/or misuse of the product and agrees that VdubEngineering holds no responsibility for any consequences, legal, or other, of such use and/or misuse.
Advertiser information

Ad information

Advertiser:
Member since:

flat
April 02, 2004


Location:
Ad placed:
Ad renewed:
Ad last edited:
Views:
Category:
Payments accepted:
Fort McMurray, Alberta, Canada
Sat Jul 29, 2017 6:16 pm
Tue Mar 29, 2022 4:44 am
Mon Nov 08, 2021 1:11 pm
3711
Vendors - New Parts - High Performance/Engine
Cash



Watch this ad |
Watch this seller
Share:
Other ads from flat
See all | See ads in this category
| | | | | |
| --- | --- | --- | --- | --- |
| VdubEngineering: Wilwood rear bracket upgrade | VdubEngineering:944 master cylinder adapter 1302/3 | VdubEngineering Porsche/Wilwood brake kits for bus | 100mm joint stub axles for type 1, thing, 944 | VdubEngineering: Porsche emergency brake adapter- |