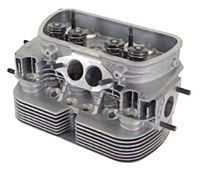 New Stock D/P Cylinder Head Special Price: 134.95
Brand New Stock D/P Heads For all 1600cc Air Cooled Engines or Engines with 87mm or 88mm Slip in Pistons. Features 35.5 x 32mm valves and stock springs. These heads have a very nice casting with all the cooling ports. We also can open them up for larger bores for $15.00 each (unless you want a certain cc, then they're $25.00 each) We have been selling these heads for a few years without any issues. Go to: www.carcraftstore.com or call (951) 781-0452 to order

_________________
Visit us at www.carcraftstore.com Shipping & payments can be done through the shop by Master Card, Visa, Discover, or Postal Money Order.
Advertiser information

Ad information

Advertiser:
Name:
Member since:

Car Craft
Ron
May 13, 2004


Location:
Ad placed:
Ad renewed:
Ad last edited:
Views:
Category:
Payments accepted:
Riverside, California, USA Map it
Tue Nov 14, 2017 11:13 am
Wed Mar 06, 2019 1:59 pm
Wed Mar 06, 2019 1:59 pm
6601
Vendors - New Parts - General Parts
Cash



Watch this ad |
Watch this seller
Share:
Other ads from Car Craft
See all | See ads in this category
| | | | | |
| --- | --- | --- | --- | --- |
| Head Studs, 8mm or 10mm | Oil Sump Plate | 48 IDA's (Empi Version) | Double O-ring Push Rod Tubes | 34 Dual ICT Type 3 Empi Carb Kit |