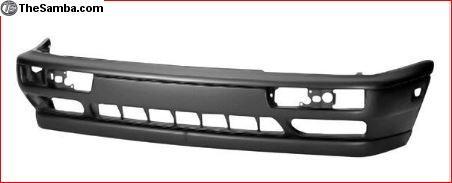 N.O.S. Front Bumper Cover-MK-3 GOLF,GTI CAB-93-99 Price: 75
Hello,
These are genuine VW Front Bumper Covers, NEW (NOT BLEMS OR 2NDS) in their original packaging, just as they came from VWoA.
When VW went to discontinue many of the Mk-3 replacement parts, we bought all we could, and we are down to the last few of these perfect replacement Bumper covers.
Here are the details:
1) VW part # 1HM-807-217-D-GRU
2) NEW, not used or re-man or aftermarket, NEW means NEW.
3) In the original packaging.
4) They come UNPAINTED-in primer finish.
5) MUST BE PAINTED, unless you want to run them primered.
6) As the part number says...it's just the bumper cover. It does NOT come
with any of the grilles, turn signal lens's, lower spoilers, or anything else
IT'S JUST THE BUMPER COVER.
7) As they are located in the San Jose, Ca. area, it is possible to arrange delivery
(within reason) if you live in the South Bay Area. Call for details.
8) Originally over $300.00 before they became obsolete.
9) Just to be 100% clear...these Bumper Covers are BRAND NEW, GENUINE VW, NOT AFTERMARKET OR RE-CONDITIONED.

These Bumper Covers have been Obsolete from VW for many years, so if you want your 1993-1999 Golf/GTI or Cab project to have a perfect front end, please give us a call and we'll get one of these to you.

Again, we have only 4 left, and when there gone, there gone for good.

That about covers it.

Please e-mail if you should have any questions.

Thank you.
Advertiser information

Ad information

Advertiser:
Name:
Member since:

VWPARTSGUY3
Norm
February 27, 2018


Location:
Condition:
Ad placed:
Ad renewed:
Ad last edited:
Views:
Category:
Payments accepted:
sunnyvale, California, USA Map it
1 - Excellent
Tue Feb 27, 2018 7:57 pm
Mon Jul 15, 2019 9:27 am
Mon Jul 15, 2019 9:27 am
131
Parts - Water-cooled
Cash
Paypal
Money order/Bank check
Credit cards



Watch this ad |
Watch this seller
Share: