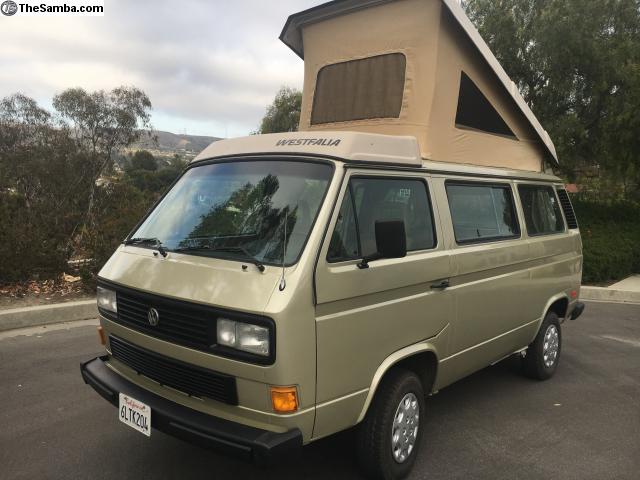 1986 VW Vanagon Westfalia Weekender Pop-Top Camper Price: 17500
This is the Westfalia Weekender Pop-Top Camper, with no kitchen. Wolfsberg Edition. Seats 6. Sleeps four: 2 upper in pop-top and 2 lower in fold-out bed. Stock 2.1 litre water boxer engine with 130K original miles, and all OEM components intact. 3-speed automatic transmission. Engine runs well and transmission shifts perfectly. No oil or coolant leaks. California smogged and registered in July 2018.

Recent refurbishment, repair, and maintenance work includes:

New distributor rotor and cap, spark plugs, air filter, rebuilt starter motor, new power steering lines, recent oil and filter change, new v-belts, new e-brake cable, new rear shocks. New gas tank with complete vapor reseal. CV joints greased and CV boots. New OEM muffler and CARB-compliant catalytic converter, and refurbished air mass sensor and throttle body/TPS, recently installed to pass CA emissions test. New throttle body air intake boot and seal. New starter battery. New front and rear black bumpers, bumper guards, endcaps, wiper blades, and headlight adjusters as needed. All exterior and interior lighting works properly. New exterior paint. Rattletrap Xtreme sound deadening on door and body panels. Good condition LT 195/75 R14 El Dorado All-Terrain tires mounted on 14 inch VW steel wheels, with hubcaps. 75% tread remaining. Refurbished interior - including carpets, door panels, upper-bunk pads, seating surfaces, dashboard, vents, knobs, cranks, seals, etc. All curtains and window screens in good condition. Rubbertite front floor mats. Working vent/heater blower fans front and rear. LED lighting in instrument cluster and transmission shifter housing. Provision for aux battery (not included). New skylight, trim, seals, hardware. New GoWesty three-window pop-top tent. New Pioneer AM/FM stereo with CD/USB/Aux and dash-mounted on/off toggle switch for "accessory" operation. Separate ground wires for rear speakers. AC functions, but AC compressor and V-belt removed for efficiency (system not updated to accept R134A). Includes original Weekender fridge/cooler (AC and 12v) in good working condition.

Additional photos at:

https://www.flickr.com/photos/

[email protected]

/albums/72157699414550904/with/43833419081/

Serious inquiries only. No Trades.
Advertiser information

Ad information

Location:
VIN#:
Condition:
Ad placed:
Ad last edited:
Views:
Category:
Payments accepted:
San Clemente, California, USA Map it
WV2XB0257GH111367
2 - Very Good
Fri Nov 30, 2018 12:46 pm
Fri Nov 30, 2018 12:59 pm
490
Vehicles - Type 2/Bus - Vanagon
Cash
Money order/Bank check
Bank wire transfer



Watch this ad |
Watch this seller
Share:

---

Forum topic on Automobile transport/shipping information