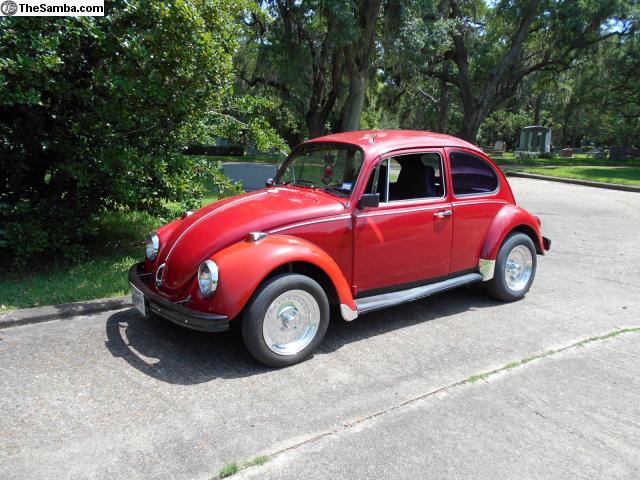 [WTB] 1969 to 1972 Standard Beetle Price: $1000 or less
I am looking in the Houston , Texas area for a standard ( not Super Beetle) rolling complete Beetle to buy. I am not interested in if it has an engine or transmission or starter or battery as complete restoration will be done. But, if a rust bucket, please do not phone me. Bad heater channels, do not call me. Rusted out door jams, where the door hang on the hinges --- do not call me. Broken glass, anywhere on the car is okay as I can replace them. Please, no ONE piece door windows. I hate the one piece aftermarket windows. And, no unrepaired car accident damage which was not done right. Okay, if it had been in an accident and some slight signs of damage can show, but not misaligned body parts. Rusted out or damaged hood, do not call me. Torn seat covers are okay. Torn headliner is okay. Need keys which work the steering column ignition lock, the ones for the doors are not important as I will put on new outside door handles. Condition of brakes not important to me. No rear disc brakes --- please ! No narrowed , slammed front beams !

If you have this car, as I described, with a clear TEXAS title, in YOUR NAME, please write to me using the samba system or to my email address at:


[email protected]

Oh, it has to have the seats in it. Looking for good floor pans. Perhaps, someone replaced them properly, in the past ? I do not want to drive more than 100 miles in any direction from 77563 to pick up this car, which needs tires on it, which hold air, for towing on the roadway.

Let me know what you have and thanks. Paying with CASH ! No title, no deal. Out of State titles, no deal. Not in your name, no deal ! NO salvage titles.
Advertiser information

Ad information

Advertiser:
Name:
Member since:

george4888
George W. Karacostas
December 29, 2003


Location:
Ad placed:
Ad renewed:
Views:
Category:
Payments accepted:
Hitchcock, Texas, USA Map it
Mon Jun 17, 2019 11:59 pm
Wed Jul 03, 2019 7:40 am
247
Vehicles - Type 1/Bug - 1968-up
Cash



Watch this ad |
Watch this seller
Share:

---

Forum topic on Automobile transport/shipping information
Other ads from george4888
See all | See ads in this category
| | | | | |
| --- | --- | --- | --- | --- |
| German VW factory deck lid for 1968-1971 Beetle/SB | Franklin Mint 1992 Model of 1967 Beetle | Beetle Striker plates for door jams - one pair | Rare AVON man's product VW car design | Herbie Loaded Movie Poster, full size |