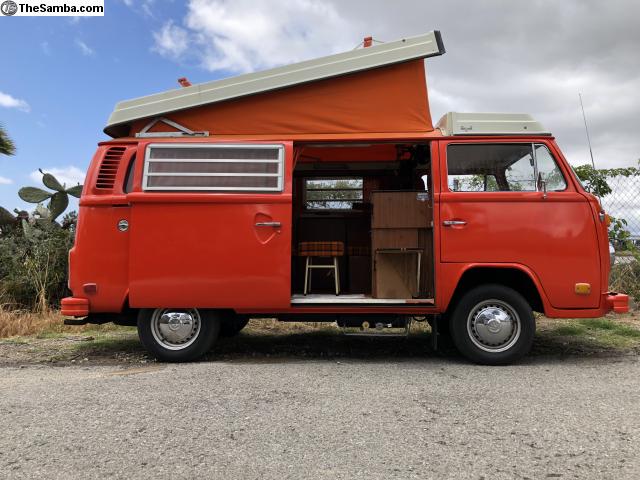 Unique 1974 VW Bus Westfalia Camper Price: 33000
Unique 1974 vw bus westfalia for sale. Bought it from original owner. Fabric, canvas all interior original except rear cabinet and top one. RUST FREE amazing driver. You won't and cant find anything like that. We won't sell unless we have the right price for it. We currently rent it on outdoorsy.

All the pictures are here:

https://www.outdoorsy.com/rv/120741

We own 2 of them in more than excellent shape and permanently maintained. Oil changed every 800 miles and much more. They both crossed multiple states. Solar panels, 110V, dual propane tanks... drive like a flying rag everything works and ready to go for who knows what this is.

No trades, no dreamer, no best offers we dont need to sell. Will talk and answer questions to buyers who know what they are doing.
Advertiser information

Ad information

Location:
Condition:
Ad placed:
Ad renewed:
Ad last edited:
Views:
Category:
Payments accepted:
los angeles, California, USA Map it
2 - Very Good
Fri Oct 11, 2019 8:35 pm
Wed Dec 11, 2019 6:51 pm
Thu Nov 07, 2019 6:58 pm
727
Vehicles - Type 2/Bus - Bay Window - 1968-79
Cash
Money order/Bank check
Bank wire transfer



Watch this ad |
Watch this seller
Share:

---

Forum topic on Automobile transport/shipping information
Other ads from VintageBusAdventure
See all | See ads in this category
| | |
| --- | --- |
| VW Bus Westfalia Camper Rental In Los Angeles, Ca | 1978 VW Bus Westfalia Excellent Condition |