| | |
| --- | --- |
| | |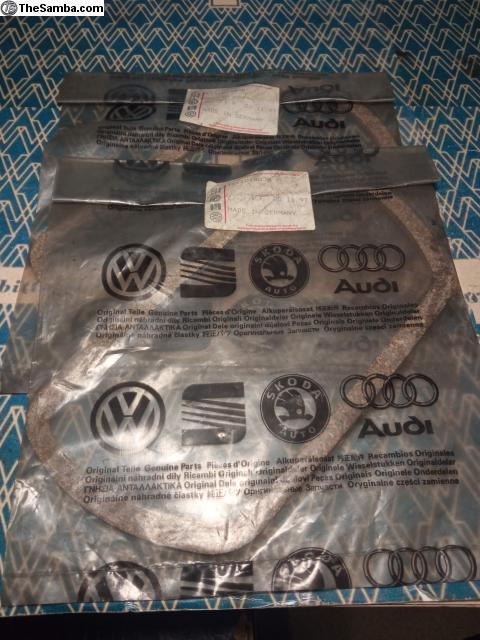 NOS valve cover gasket pair Price: 20 €
111 101 483B
Price per pair

_________________
Worldwide shipping.

For a shipping quote include your country/postal code when you reply this ad. We send the package with tracking number. Insurance is a buyer option, if you want it let us know, in any case the shipping is at your account and risk.

We accept only Bank Transfer. PLEASE MAKE SURE YOU DO NOT CHOOSE SHARED COSTS for international bank transfer. NOT Paypal.

This parts have been stored for decades, so visual inspection may show some corrosion and/or some surface scratches due the ravage of time or previous mishandling. So please check out the pics and be sure before buying it. Usually we do not accept returns.

Thanks.

Visit our website for more NOS PARTS: https://cloverracingparts.com/nosparts/

.....................................................
Advertiser information

Ad information

Location:
Ad placed:
Ad renewed:
Views:
Category:
Payments accepted:
Madrid, Spain
Tue Sep 27, 2022 3:13 am
Thu Nov 30, 2023 2:18 am
73
Parts - Type 1/Bug - through 1957
Cash
Bank wire transfer



Watch this ad |
Watch this seller
Share:
Other ads from cloverracingparts
See all | See ads in this category
| | | | | |
| --- | --- | --- | --- | --- |
| NOS ATE piston ring set 83mm | NOS ATE front & rear wheel cylinders kit (4) | NOS generator pulley 34hp | NOS HELLA headlight chrome ring pair | Headlight bulbholder |
---
About
|
Help
|
Advertise
|
Donate
|
Premium Membership
|
Privacy/Terms of Use
|
Contact Us
|
Site Map
Copyright
© 1996-2023, Everett Barnes. All Rights Reserved.
Not affiliated with or sponsored by Volkswagen of America | Forum powered by
Links to eBay or other vendor sites may be affiliate links where the site receives compensation.