| | |
| --- | --- |
| | |
This ad is a Featured Ad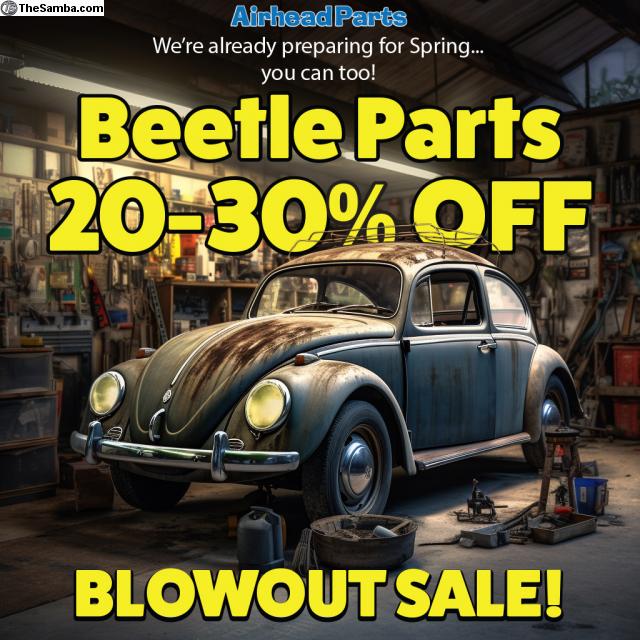 SALE! 20-30% Off Beetle Parts at Airhead Parts! Price: varies
If it only fits a Beetle, it's on sale 20-30% OFF!

New and Used parts are included in the sale.

With the busy season winding down, we'll be starting some major reorganizing here at the shop. It makes more sense to sell these parts cheap than to move them from place to place while we rearrange the warehouse shelving.

We don't have a lot of stock on some of these part numbers, so hit the "SALE!" folder on the Airhead Parts homepage and see if there's anything you need for this winter's project quickly. Once these particular Beetle only parts sell out, we won't be re-stocking most of them until Spring!

www.airheadparts.com

_________________
KGPR / Airhead Parts specializes in stock restoration parts for rear-engine Volkswagens.

We have a huge selection of New and Used VW parts in stock. Everything we make is guaranteed for life.

www.airheadparts.com / www.karmannghia.com

Karmann Ghia Parts & Restoration started in 1989. We expanded to supply all rear engine models under the Airhead Parts name in 2005.
Advertiser information

Ad information

Location:
Ad placed:
Ad renewed:
Views:
Category:
Payments accepted:
Ventura, California, USA Map it
Mon Oct 02, 2023 9:22 am
Mon Nov 20, 2023 5:47 pm
503
Vendors - New Parts - General Parts
Cash
Paypal
Credit cards



Watch this ad |
Watch this seller
Share:
Other ads from airheadparts
See all | See ads in this category
| | | | | |
| --- | --- | --- | --- | --- |
| Karmann Ghia Door Hinges, 1959-74 | Convertible Top Latch | Vanagon Rear View Mirror | Karmann Ghia Rubber Floor Mat Set | 1972-79 Bus Fresh Air Hose Seal (oval). Type 4 |
---
About
|
Help
|
Advertise
|
Donate
|
Premium Membership
|
Privacy/Terms of Use
|
Contact Us
|
Site Map
Copyright
© 1996-2023, Everett Barnes. All Rights Reserved.
Not affiliated with or sponsored by Volkswagen of America | Forum powered by
Links to eBay or other vendor sites may be affiliate links where the site receives compensation.