Classifieds - Allow Additional Photos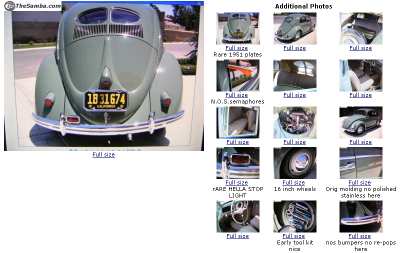 Would you like to allow your ad on TheSamba.com to have up to 18 photos instead of the standard 9? Of course you would! For a small fee, your ad can have the luxury of the maximum number of photos available, ensuring you can show additional angles for your vehicle or a complete display of all the parts you are selling.

By paying a $5 fee through PayPal, your ad will have this capability.

Payments can also be paid by money order, email for details.

Please note that doing a Featured Ad will also allow you to have up to 18 photos.

To allow your ad to have additional photos, simply place an ad as you normally would with the Place an Ad form. After you complete the form, either click on Allow additional photos or Manage your ad, then select More photos.

Questions? Contact me

Thank you.