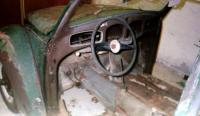 Posted: Tue Dec 19, 2000 1:29 am
Size: 487x284 Views: 2354
Rating: Not rated

martin sandström
This is my VW. Built in August 1949, and then used in sweden to 1963 when it was dumped in the forest.
In 1995 it was found by a man who bought it from the very old owner, and a few years he later sold it to me.
Now its waiting for its renovation in Uppsala, Sweden.

View other images:
From martin sandström



In Bug - Split-window/1938-53 VWs
Search Forums for photo