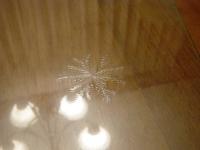 Posted: Fri May 19, 2006 9:49 pm
Size: 640x480 Views: 527
Rating: Not rated

Snowflakes in center of Sigla laminated glass!
tasb
We've all seen sigla glass with delmination taking place along its exposed edges but how about delamination in the middle of the glass in the nearly perfet pattern of snowflakes! Never seen anything like it probably never will. Its on my 57 Kombi.

View other images:
From tasb



In Parts/Accessories - Rare
Search Forums for photo
Forum code: