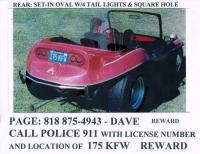 Posted: Thu Jan 05, 2006 2:35 pm
Size: 600x463 Views: 3531
Rating: Not rated

Stolen Dune Buggy still not found!!!
247vws
I just came across this in my files where a good buddy of the dune buggy archives website, had a family dune buggy stolen. The number for the local police is posted on the pic. Please help Dave Haskins if you have seen a buggy that looks like this. It could be painted nay color by now, but, look under the hood and anywhere you can see the original gelcoat. Thanks!!!

View other images:
From 247vws



In Stolen VWs
Search Forums for photo