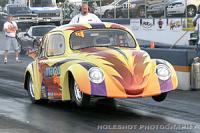 Posted: Fri Jun 17, 2005 3:35 pm
Size: 300x200 Views: 951
Rating: Not rated

Mega Bug - Watch Out...
HoleShot Photography
This past Thursday night Todd Howard in his 57' MEGA BUG was Testing-N-Tuning at Farmington Motorsports Park in Mocksville, NC. The MEGA BUG has turned a complete circle since his last session in Xenia, OH at Larry's Off Road Spring Nationals. This state of the art all Vw Powered Beetle is almost complete and is looking to produce some massive numbers and shock the east coast community.

We will not disclose the MEGA BUG'S time during this Test-N-Tune but we can say that it was a very respectable pass and he didn't "GET IN IT" until the 60foot marker. So watch out for the MEGA BUG when it's primed up and ready to go.

View other images:
From HoleShot Photography



In Racing
Search Forums for photo