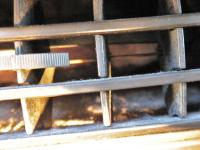 Posted: Tue Jan 14, 2020 4:22 pm
Size: 1600x1200 Views: 2
Rating: Not rated

INSULATION CLOGGING VANAGON AIR VENT
VanGo's Garage
The driver's side lower dash air vent in my 1985 Westy is clogged with pink fiberglass insulation. If pulled out with a tweezers, I can see a whole wall of more insulation behind it.

Any ideas about where it's coming from and how to prevent?

Thanks, Samba community.

View other images:
From VanGo's Garage



In Vanagon/Eurovan - All
Search Forums for photo