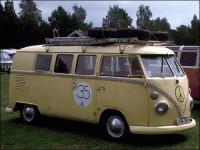 Posted: Fri Sep 13, 2002 5:26 am
Size: 500x375 Views: 881
Rating: Not rated

Hippy Turtle Rally Team
Jacob
My Type 235 (Kombi with sun roof) double-door, ready for the VW-bus class of the Safari Rally. (They all beat me at Hill Climb, so I'm shifting to endurance. ;-)
I saw another pic in this gallery of my bus, the double-door by a lake, and thought I'd add a "general view". This look is one-season-only. You won't recognize it next summer.
Picture was taken at the first annual Bussfest, organized by Nordic Type 2 Club (see link). See you all there next year!

View other images:
From Jacob



In 55-67 Bus - Kombis
Search Forums for photo