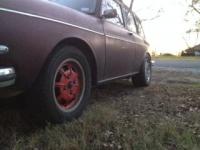 Posted: Mon Jan 18, 2016 1:45 am
Size: 320x240 Views: 132
Rating: Not rated

16x8 et52.5 porsche slots manhole covers (944) on 73 squareback
piledriver
16x8 et52.5 porsche slots manhole covers (944) on 73 squareback

Cooper Zeon RS-A 245/50-16 1" spacers on modded-to hubcentric and to 5x130 T3 rear hubs. ~1/2" to outer (dual) spring plate, mark was from trying 15mm spacers with Wilwood hats. With single spring plates that would likely work under stock fenders with only rolled lip work.

Trimmed bump stops, rolled and slightly pulled fenders.
Has 1 spline drop only, any more needs ~easy (and hidden) inner fender work.

Fronts are ~next week, 16x6s with 205/55s also manhole covers, no fitment issues there once setup for 5x205. Would prefer 7s.

View other images:
From piledriver



In Type 3 - Squareback
Search Forums for photo