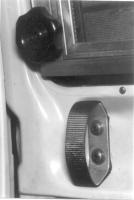 Posted: Tue Aug 08, 2006 6:59 am
Size: 388x576 Views: 885
Rating: Not rated

1968~79 VW Type 2, sliding-door, pull-close strap
NASkeet
This is the sliding-door, pull-close strap, I made for my British specification, right-hand drive, 1973 VW Type 2, Westfalia Continental campervan.

This is made from a 25 mm (i.e. 1 inch) wide strip of duralumin and some 25 mm (i.e. 1 inch) wide nylon webbing. I used grey webbing, whose neutral colour blends well, with the pastel-white interior, but I also have, black, blue, orange and some other colours I think.

The two 20 mm long screws, use the existing tapped holes, in the sliding-door, rear hinge mechanism, as does the special OEM helper handle, which is a duplicate of the front-mounted door-lock handle, mounted on a special adapter bracket.

The main sliding-door handle, is obstructed by the campervan furniture, so this strap mades it much easier to close the sliding door and much quieter too.

If anyone is interested, I still have some some materials left, to make up some more, for either right-hand or left-hand sliding doors.

View other images:
From NASkeet



In Parts/Accessories - 68-up Bus
Search Forums for photo