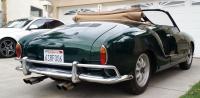 Posted: Fri Feb 26, 2016 10:56 am
Size: 1600x791 Views: 224
Rating: Not rated

STOLEN VW Karmann Ghia Vin 145395322 plate 6SRF006 REWARD OFFERED
locomobilia
We are offering a Reward for any information leading to the localization and recovery of <br>
our stolen 1965 Volkswagen Karmann Ghia, stolen January 26, 2016 at 1924 Miramar Street, Perris, CA, 92571. <p>
If you believe you have any information related to this case you can contact me directly or <br>
contact the Southampton Town Police Department in New York State at 1 631 728 2728 or 1 631 728 5000, mention case # 16-2728 Grand Larceny. <p>
CAR INFO: <br>
1965 Volkswagen Karman Ghia Convertible Green <br>
Vin# 145395322 or ID # 65611080402 <br>
California Plate number: 6SRF006 <p>
I have the following info about the seller (not published in this ad for legal reasons, but available at the Southampton Town Police Dpt. mentioned previously): <p>
Name, address, phone numbers, date and place of birth, photo, driver's license #, <br>
email, facebook email, Instagram ID, Bank Account info, Business name. <p>
Previous Owner info before Theft: <br>
Lair Charles Bernard <br>
10679 Park Rim Circle, Moreno Valley, 92557 <br>
Owner's spouse Teresa <br>
Phone numbers found for previous owner: <br>
951 538 1892 <br>
951 243 5209 <br>
951 485 0416 (disconnected).

View other images:
From locomobilia



In Ghia - Convertible
Search Forums for photo