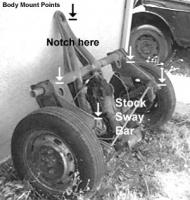 Posted: Thu Jul 17, 2008 8:00 am
Size: 300x315 Views: 851
Rating: Not rated

The easy way to build a trike frame I:
uncle frank
Type III wishbone

Five stock body mount points are also an excellent way to attach the trike's body. The whole thing just unbolts from the early Type III pan as a unit, engine, transaxle and suspension all in one, simply reuse the stock rubber donuts, nuts, bolts & washers. Notice the built in stock sway bar (can't beat the price). This unit simply unbolts from the pan in certain year models of the Type III and is the basis of my Type III trike.

It's almost embarrassingly easy to build a trike this way, notch the front of the wishbone and weld the frame neck in. If you do it right and use the stock mount points, the entire body and seats will also be rubber mounted. Add some chromed swing plates and cheap coil over shocks, a disc brake motorcycle front end, seat, gas tank, wheels and tires and you've got so much fun it ought to be illegal...

View other images:
From uncle frank



In Other VW / Water-cooled VW vehicles
Search Forums for photo