One way to "true" a type 4 cooling fan:


Since the 411/412 crowd is my crowd...I am posting it here...but this is a link to the recent discussion with good information:

https://www.thesamba.com/vw/forum/viewtopic.php?t=...mp;start=0

Since I am working on a lot of things engine related right now…and we have been talking about this here and there over the past few months…I spent a few hours using "one method"….that I have not used in a long time but worked very well.



The real question here I guess…..is how accurate do you "really" need to have the fan pulley?



I have had them be out as much as .060"…which is about the limit of the holes and the bolts…and they will sling the belt right off.

Many years ago when that first happened to me…it was because I had broken a fin or two on my 411….and picked up a used fan from a wreck that had probably been apart. I could see and measure….pretty much using Amskeptic/Colins method of just tweaking it on the car and measuring to the shroud opening with feeler gauges and rod gauges.

I know for a fact it was not perfect when I was done….but I know it was between .010" and .015". I say "between" because….I could see the main 180° difference….-.030" to +.030"…but there was some lateral shift between the high and low points…and I was probably also measuring some of the variance in the aluminum casting.

But…getting that close…say .010" to .015"…caused it to quit throwing the belt. You could still see a lot of vibration so I will not say it was perfect.
But I figure if I am going to be setting up and measuring…I am going to get it as close as possible.



Ways that have been discussed to true a fan:



1. Mounted on its crank hub in a lathe. Perfect if you have a lathe.

2. Mounted between a pair of machine "live centers" on a bench. Also excellent!....if you can get live centers that fit the taper joint and either in place of the rubber nose cone on the early fan or the flat faced fan.

3. Mounted on the crank with the crank in a case with a set of old bearings. Works very well!

4. The plate/jig method suggested by 74Westy…..should work very well…if you can set the jig up accurately

This "how to" is showing another method I have used before and is a way to do a very accurate job of truing or re-centering the fan pulley even if you do not have any of the above items/tools handy.



For the record…this is one of my more abused fans I pulled from a wreck. It has one broken fin…which I will grind down later and remove the other three corresponding fins at 90° intervals, clean and polish and repaint the pulley…but for now this is just about the method of truing.



This method uses a thick, flat particle board workbench top and three inline skate or skateboard bearings mounted to the board around the fan mounting hub at 120° apart. Two are in fixed holes and one is in a slotted hole so the hub can be held tightly and accurately with no play.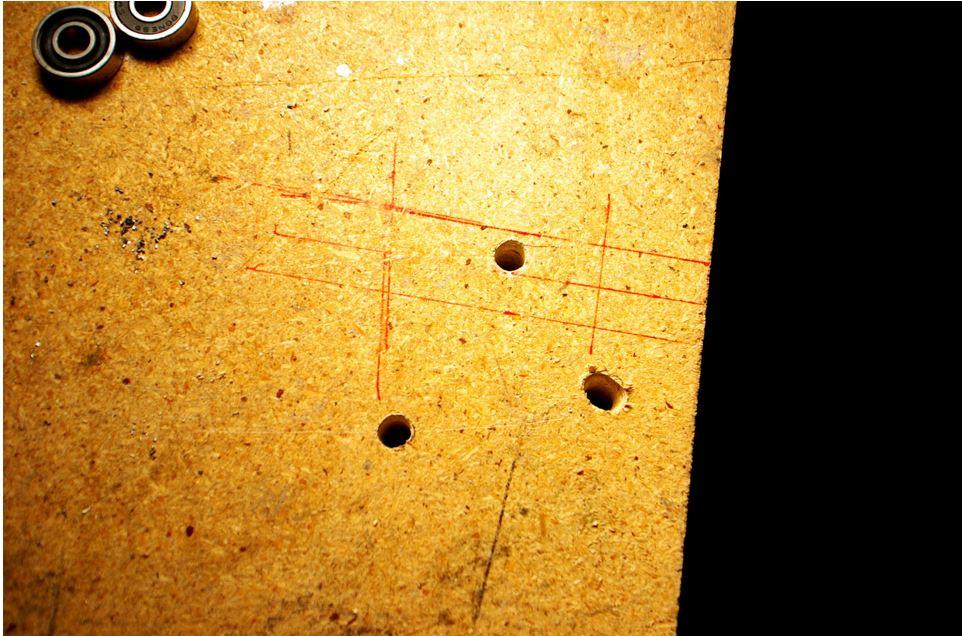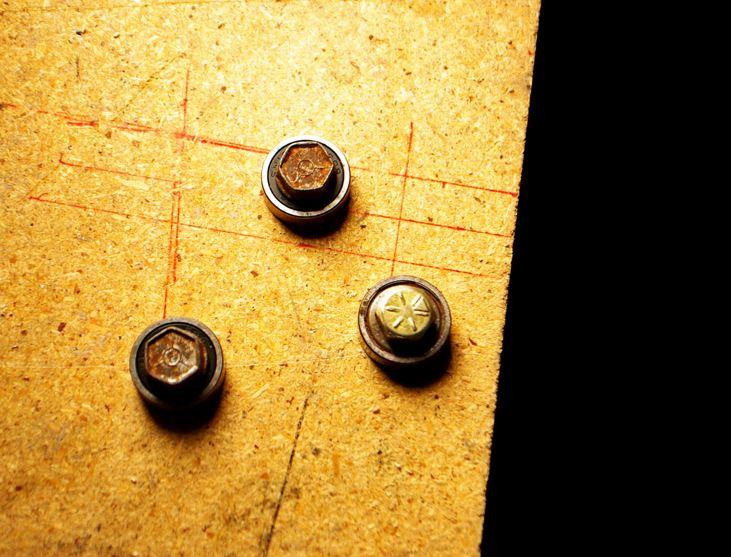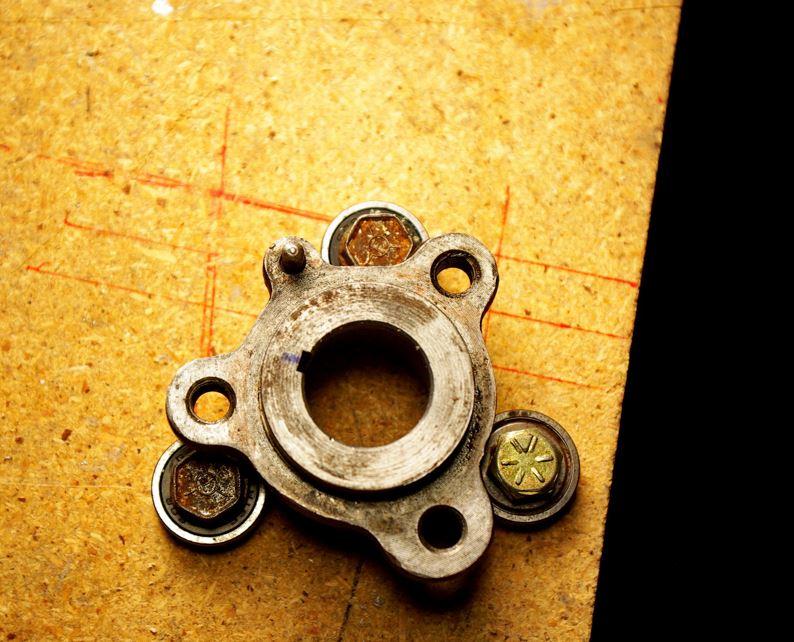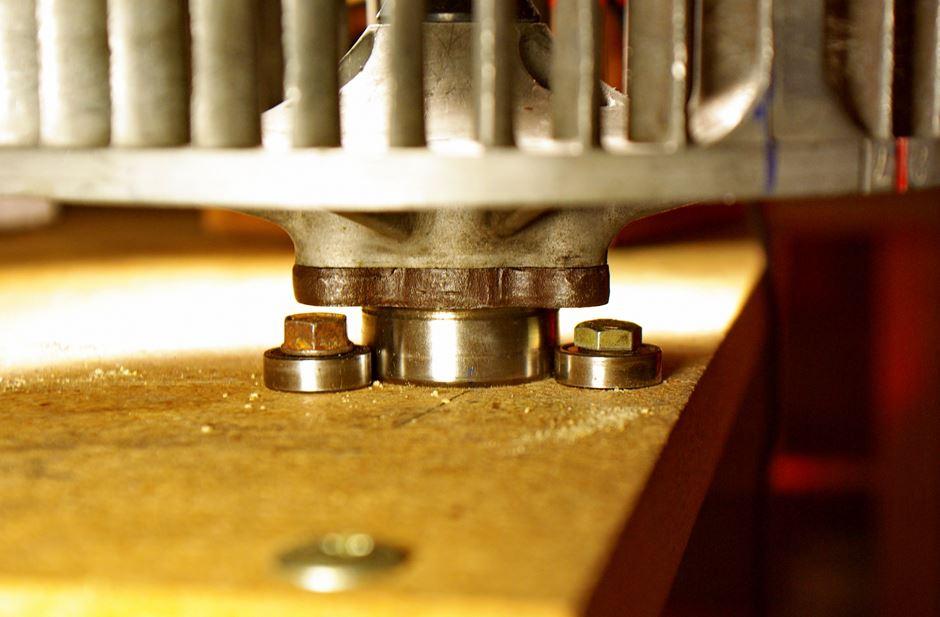 Are these bearings radially accurate?

Yes!.....more accurate and with less radial and axial tolerance than just about anything in our engines and transmissions (except good wheel bearings).
These are standard 608 ball bearings. Mine happen to be 608Z…..meaning they have a dust shield on one side. They are also ABEC 7 class. Even the basic ABEC 3 skate bearing from WalMart is more accurate than anything in our engines….so no problems.

These are mounted on 5/16" bolts with washers and nuts. You need to mount these close to the edge of the board or workbench so you can work underneath if you need to.

Here is some set jig up information. I bolted a steel plate to the work bench for the magnetic base to sit on….but I only used it for the initial checking of the aluminum fan ring. I found it to be more stable for working on the pulley and hub when I used one of my cheap, basic indicator stands…unscrewed from its base and bolted to the plate on the bench. An 8mm x 1.25 hole was threaded in a piece of 1/8" thick steel plate to mount the stand solidly with its on mounted 90° to the centerline of the fan and that was screwed to the table.

With this method…the first thing you want to do….is find out how accurate the actual aluminum fan section is by measuring along the ring where the "0" and timing marks are on 411/412/914 cars….just so you know if there is some wobble you are seeing that is not part of the pulley alignment.

You probably cannot correct anything on it but it's worth knowing….well unless you bolt it to the hub…just one hub…and put it in a lathe and skim the rim.

Since this was the only measurement I was going to make where I actually turned the fan and just watched the needle variance…I did not want surface noise and any chatter to causing wild gauge fluctuations…and as noted did not have my wheel probe…so I made a low friction probe "skid" out of a slice of Torlon (hard as a rock and nearly as slick as Teflon). This actually works as good or better than the wheel.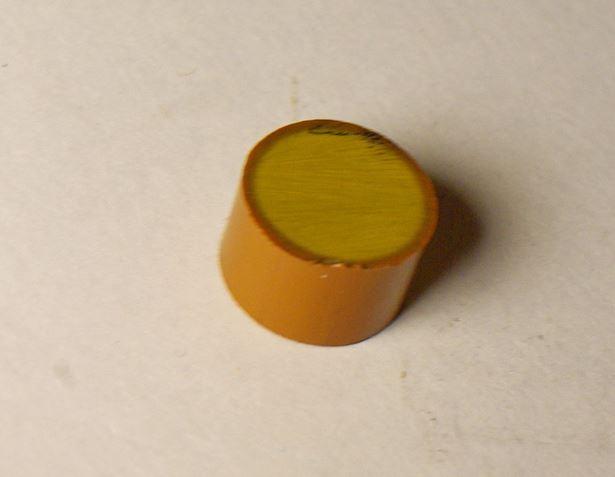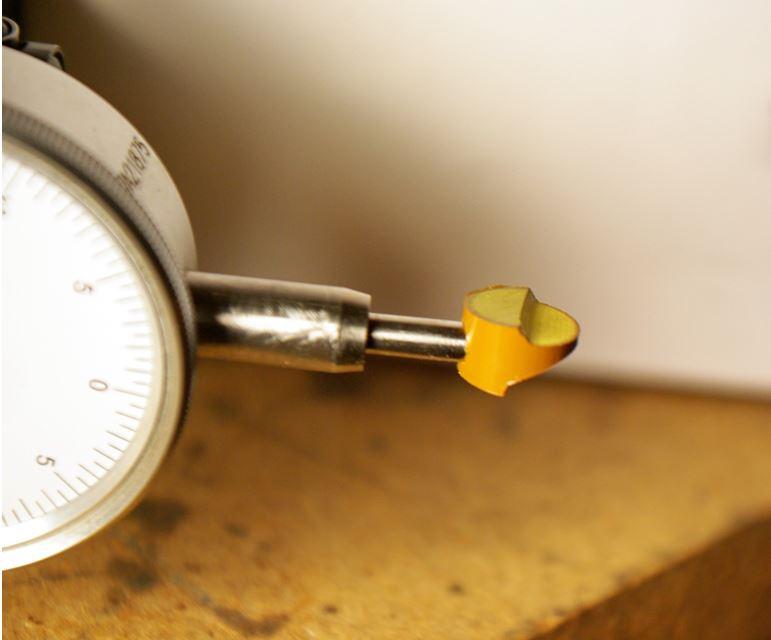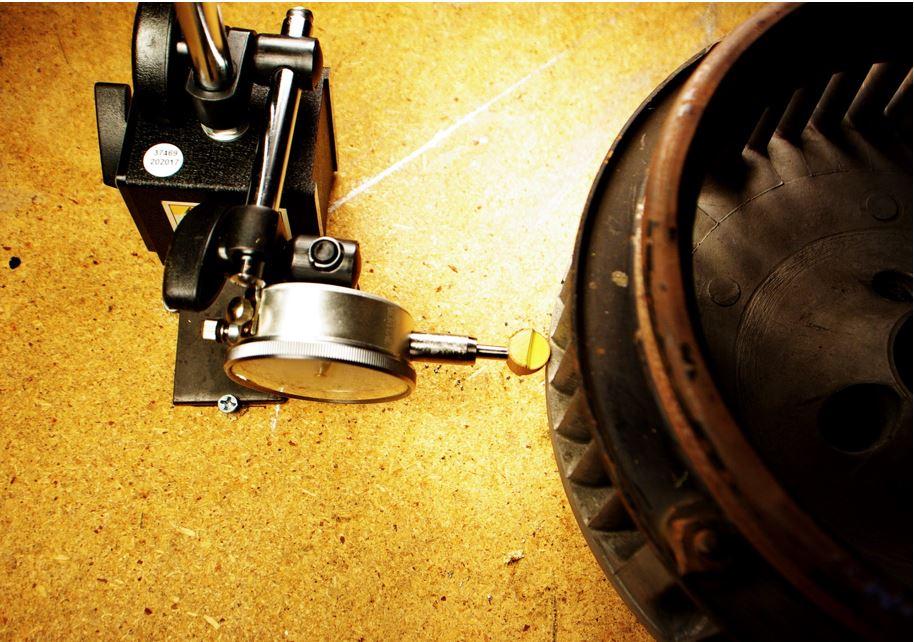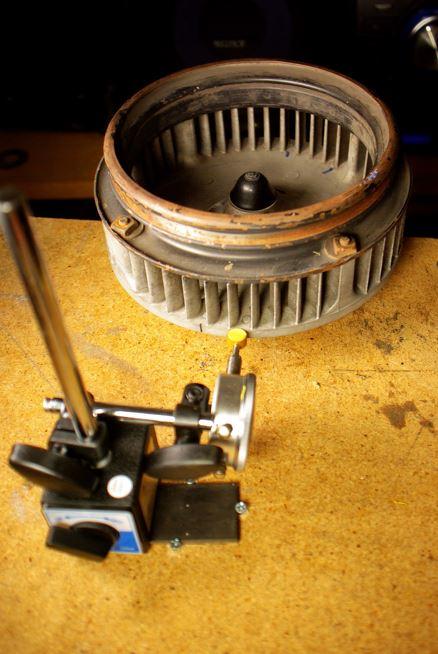 So this is the low point. Yes…the needle is actually on "0" but I had some angle on the lens on ist tripod so you have a little parallax.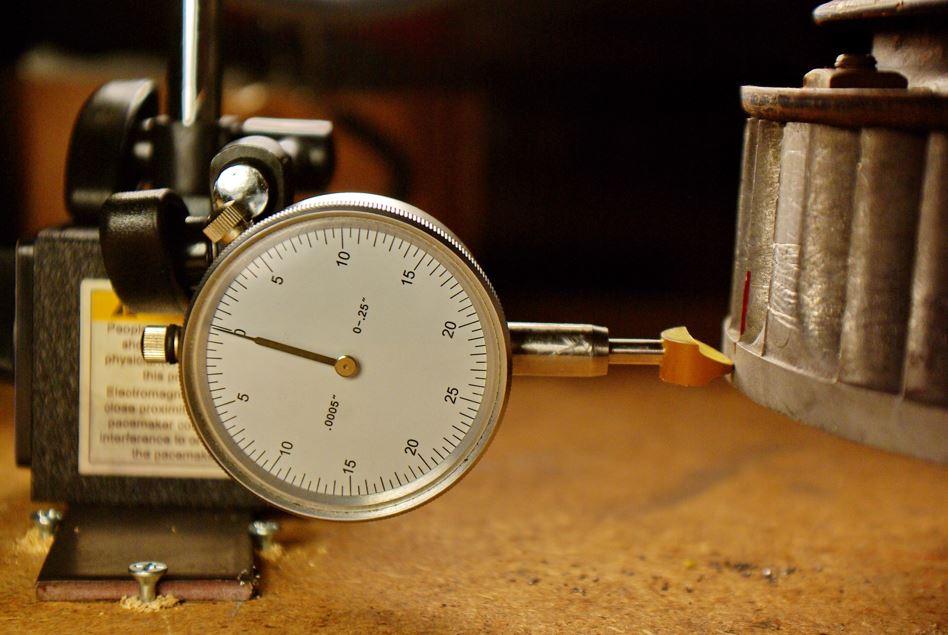 The total out was .003". This gauge is calibrated in .0005" per increment….so the 6 grads = .003"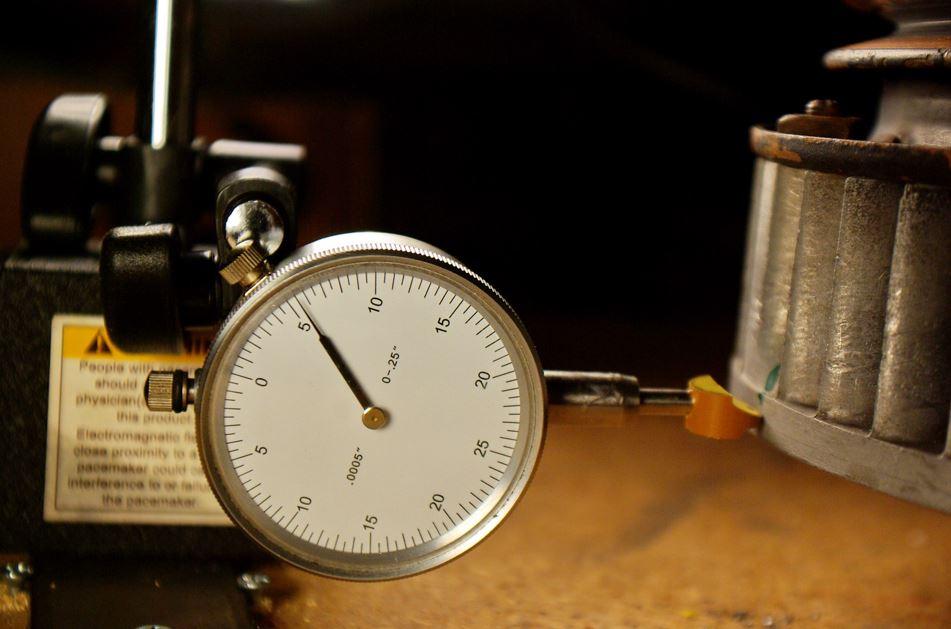 This was also quite linear. It went pretty much straight from the low spot to the high spot in 180°…with only a few lumps from dings in between. So….it would indicate that either the aluminum fan ring was out .003" or the fan ring is straight and the crank hub is out….or a combination of the two.



So…let's check the hub where it mounts to the fan ring.

Since I did not want to dismount any of my stands for this quick check…I stuck the gauge to a ring magnet and stuck that down with a square of 486 adhesive. It was fine for a quick check.

I first measured the seal race area that the ball bearings are running against. I then moved the gauge up higher and re-zeroed on the low spot corresponding the low spot on the seal race. The low spots of both the upper fan ring boss and the lower seal race boss are in about the same sector within a 10° radius.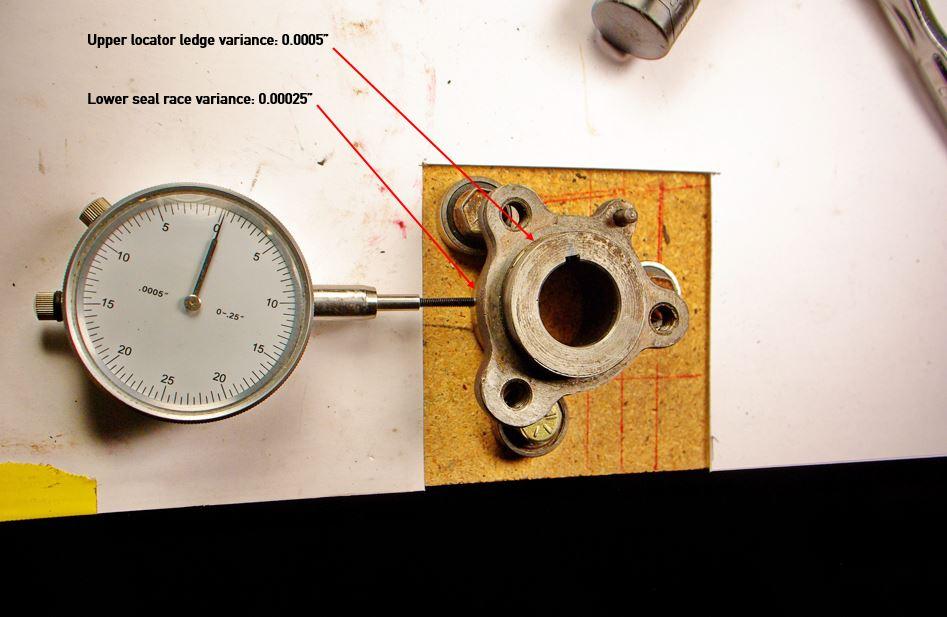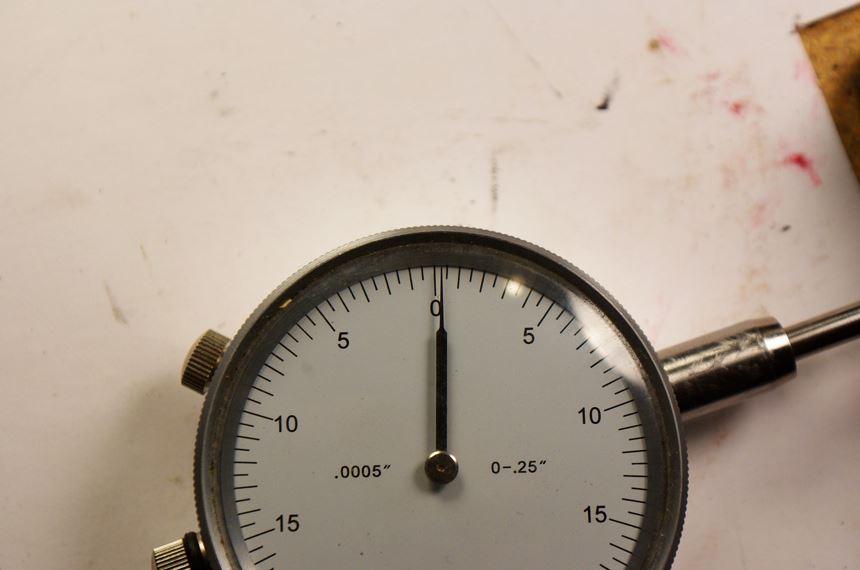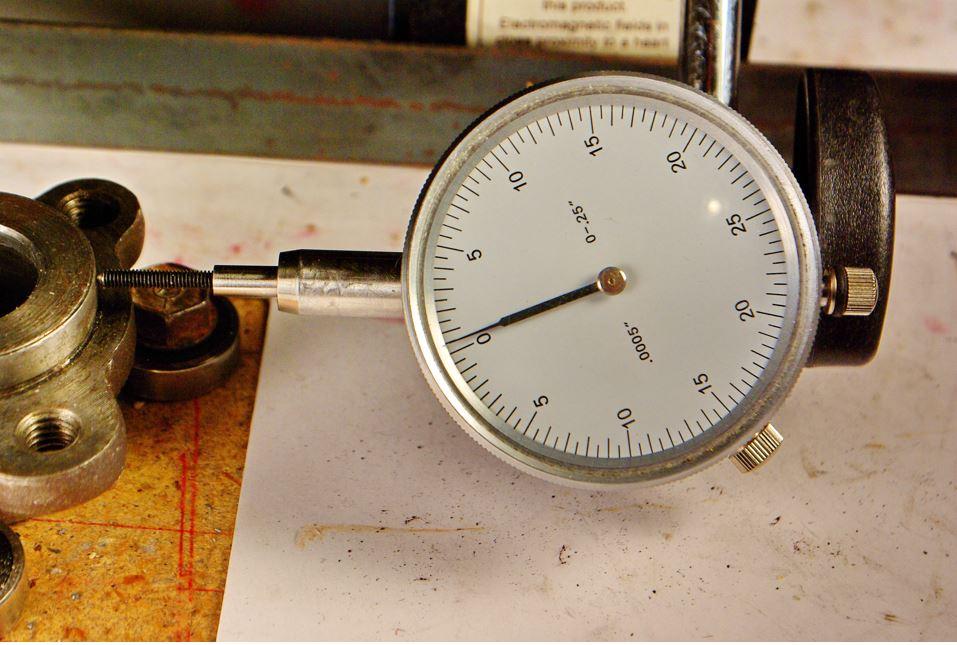 So there was right at 0.00025" of run out on the seal race…and 0.0005" run out on the fan ring boss….so a total of 0.00075" of runout in the hub total….which puts about 0.00225" in the actual aluminum of the fan ring. Not too damn bad for machine work. That is actually not fare from the oil tolerance in the crank main bearings.

Perhaps this helps to answer the question SGKent had about how concentric the hub is.



NOTE: for those who wonder…I put the cheap white cardstock down for better lighting for the photos.



You really "should" use a dial indicator wheel probe…but mine….had a run in with some condensation and was damaged. Obviously I did not have a stainless wheel or that would not have happened.

But…..if you are using a square edge wheel you cannot accurately measure in the valley of the pulley. I elected not to measure from the outer edge of the fan pulley because it has enough small dings and chipped paint that I did not want to measure "noise".

You can use a long needle tip probe of about .062" diameter or smaller. I made a long probe with a 4-48 gun screw I picked up from the hardware store.

This aluminum fan section had a high side and was out a total of right at .003"….and tapered off between 0 and .003". Not bad! This has no real effect on the belt pulley because we will set that concentric to the hub.



The indicator stand set up: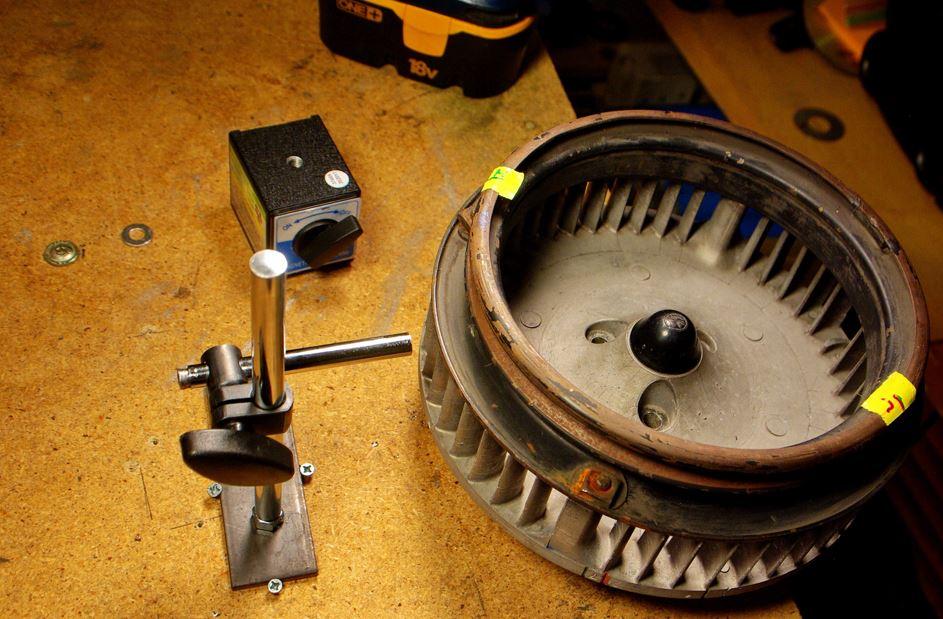 The arm and post bolted to the plate. Make sure you are on the fan centerline and have the gauge perpendicular/tangent to the pulley.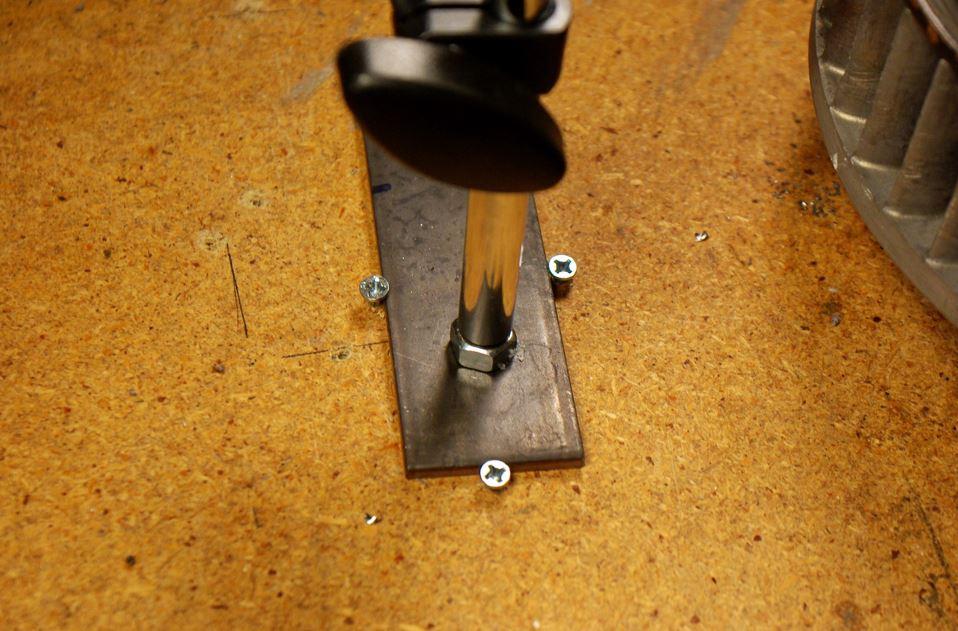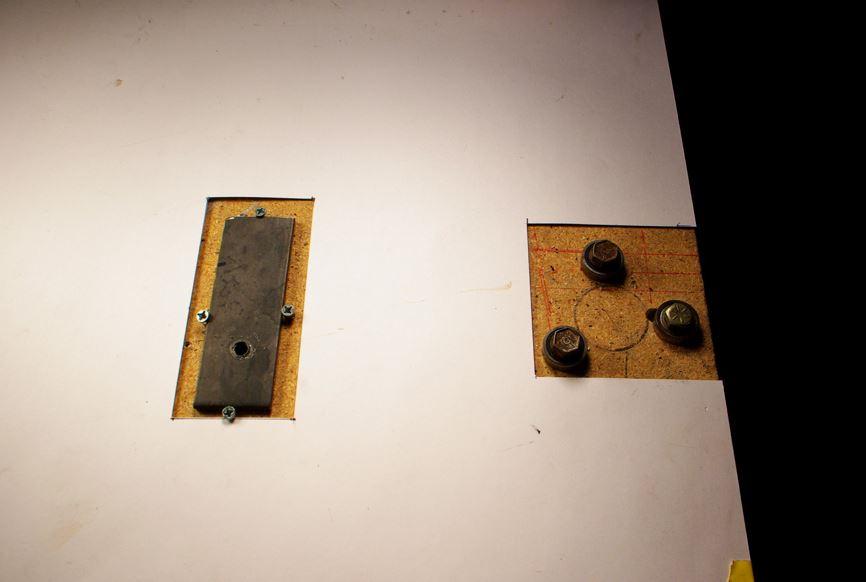 Everything's ready and cardboard around it to reflect light



Loosening the bolts:



This was my first real snag. I found that someone…some hack previous owner …(maybe even a dealer) had "staked" these bolts and nuts to keep them from coming loose.
At first I thought they were just rusted. Used penetrating oil and heat…..no luck. Just brute force.

It's not the first fan I have found this way. If one uses proper lock washers and spends 10 cents and changes them out when they are working on something they would not need this stupidity.



First…before disassembly: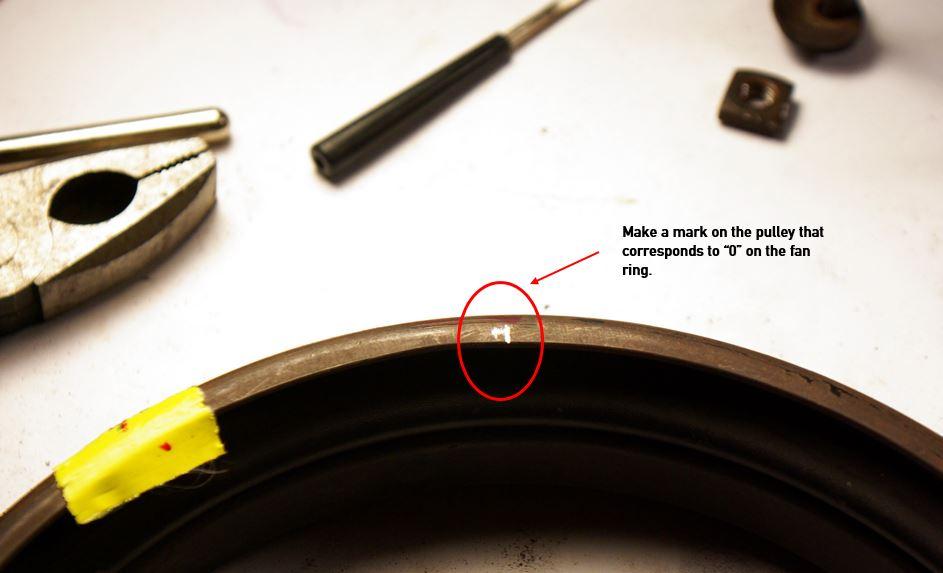 Mark the pulley to where "0" is on the fan ring.




This is just two of the four. They were all staked this way. These two are just the worst.




Do not know why they used a chisel on the nuts.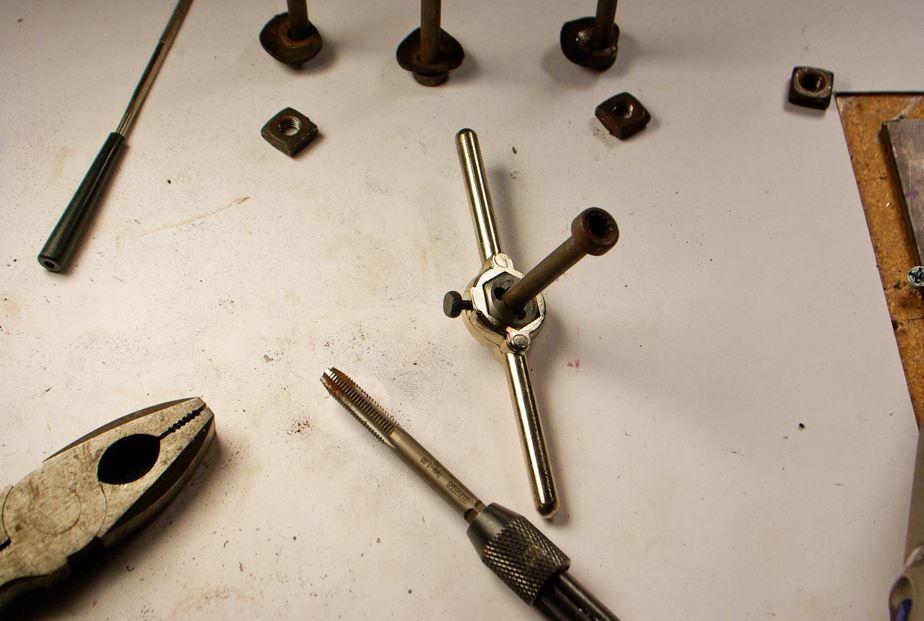 So after a 10 minute tape and die party….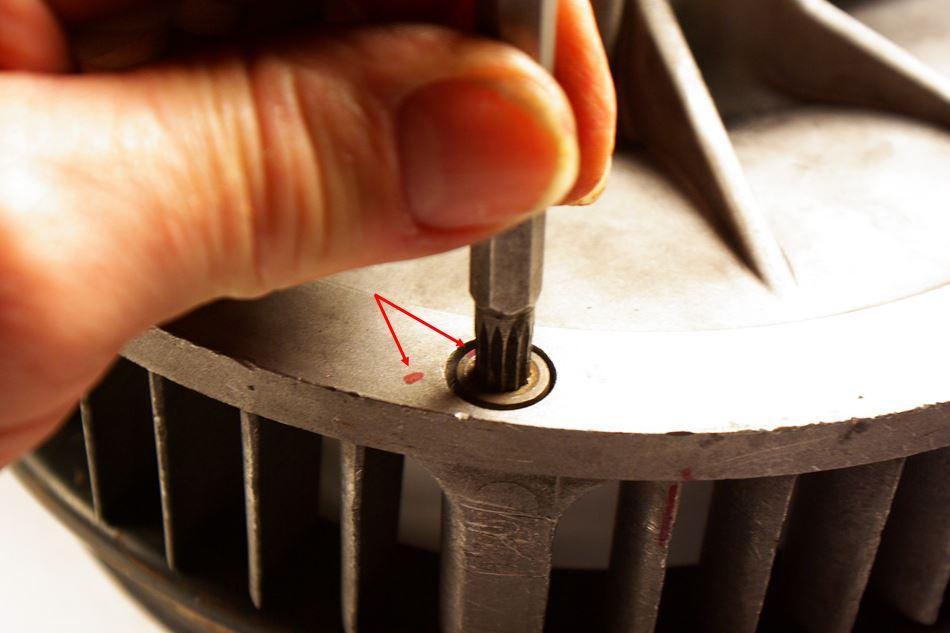 Then all four bolts are set finger tight. Notice the two red marks the arrows are pointing to. Each bolt, nut, flange washer and lock washer set are marked for the position they came from.

Setting up the gauge:

Because the gauge is perpendicular to the pulley…unless you have a wheel point on the indicator and/or the pulley Vee is glass smooth….you will get chattering if the gauge.
This is the reason I set up the gauge on a stout bolted down post….and also do not plan to leave the gauge in contact when I turn the fan.
I will lift and turn…lower the gauge point…read…record…lift and turn. When I find the lowest point I will mark it. When I find the highest point I will mark it



Some handy tools: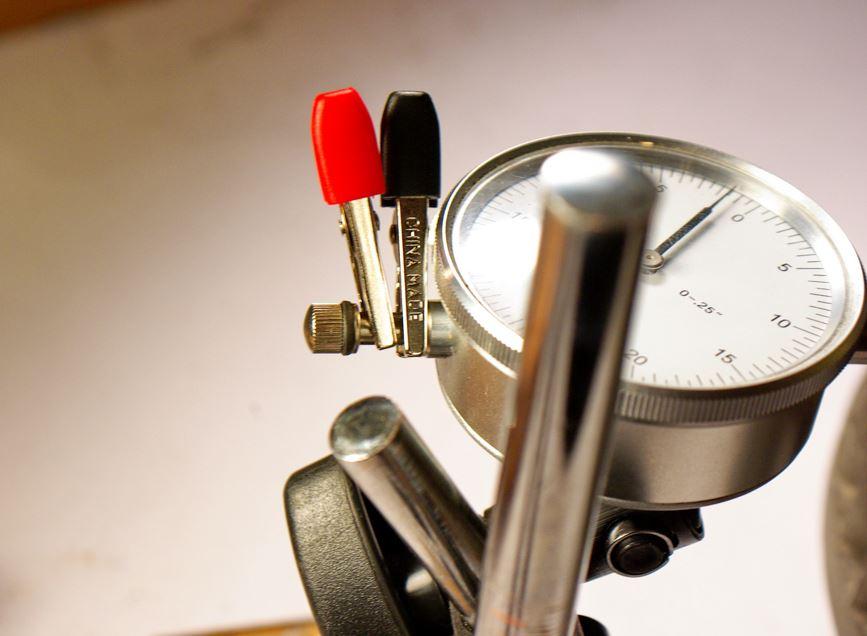 These are cheap mini-crocodile clips from Radio Shack. They are perfect for holding the dial indicator plunger away from the pulley Vee while you turn the pulley. You only need one. A third hand,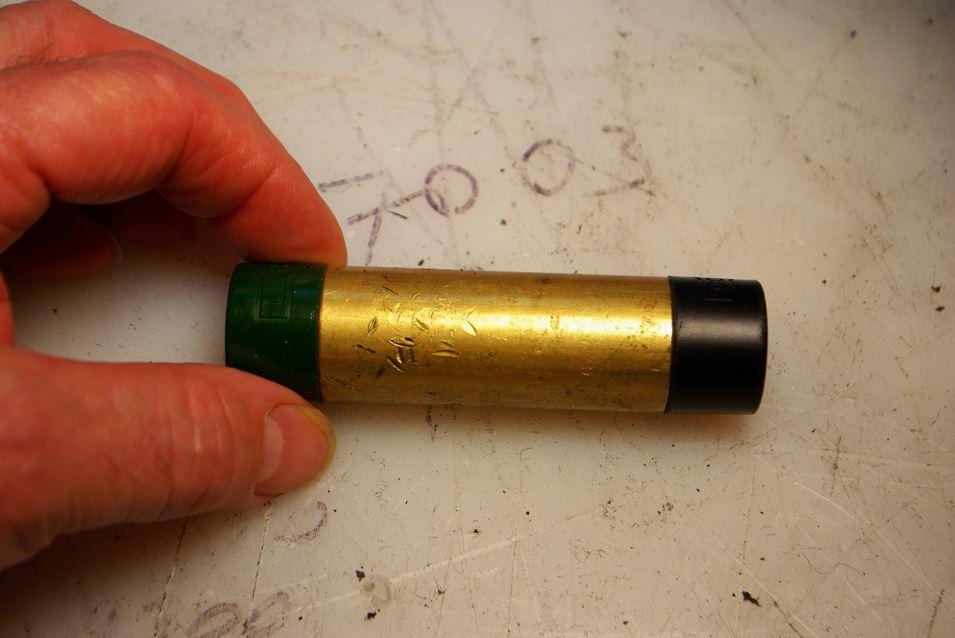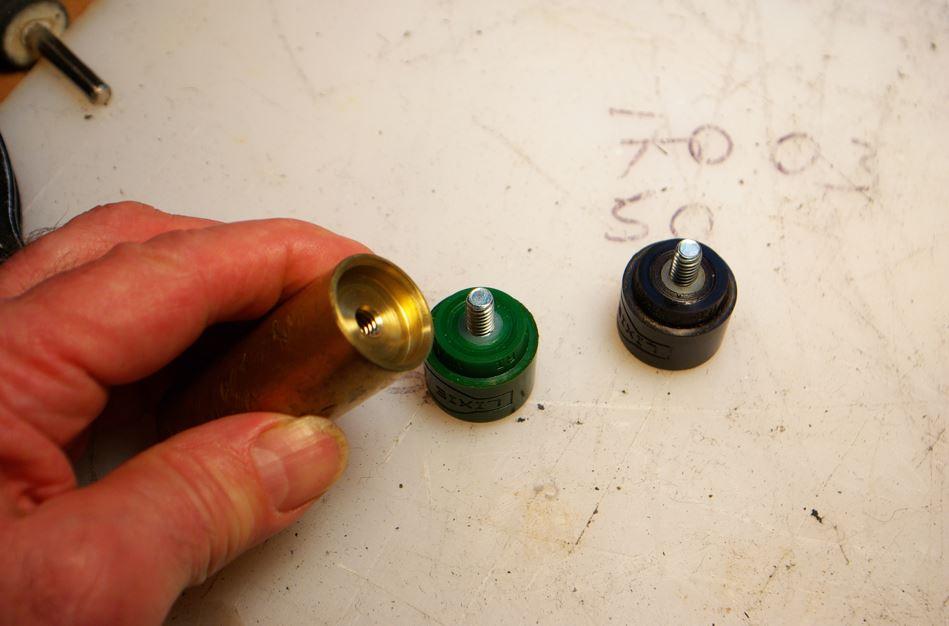 I am sure you can buy these somewhere…but they were made for all of us for setting up die-cutting and molding work at one of the plants I worked in by the master machinist who worked on tools and dies.

It is a small "finger tapping" hammer made of 1" brass rod, tapped for 1/4" -20 on each end and a standard hard plastic (black) and soft plastic (green) hammer face was screwed in.
They are used for tapping precision fixtures into place without damage. It allows a great amount of control when tapping things into place a few thousandths at a time.

Readings and adjustments:




So here is where the probe rests in the Vee…ready to go.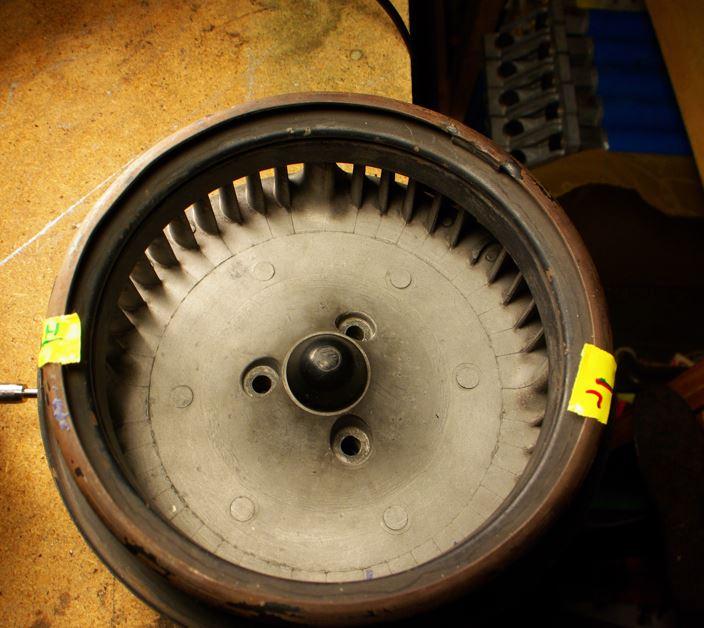 Before I put the cardboard down….I made an initial full cycle and measurement to find the high and low points…marked here by yellow tape and Sharpie marker,



NOTE: They are not exactly 180° apart

….maybe 170°-175° apart. This means that not only is the pulley off in one direction across the center axis…but is slipped slightly to one side.

You should proceed to get rid of the biggest variance first to set the fan equal in one axis FIRST. Then turn it exactly 90° and work that axis. MARK YOUR AXES AND POINTS.

Then turn it 45° and work the highest to lowest axis.

Go back and check your first two axes. DO NOT JUST JUMP AROUND. You will be here all day long.



First turn and reading: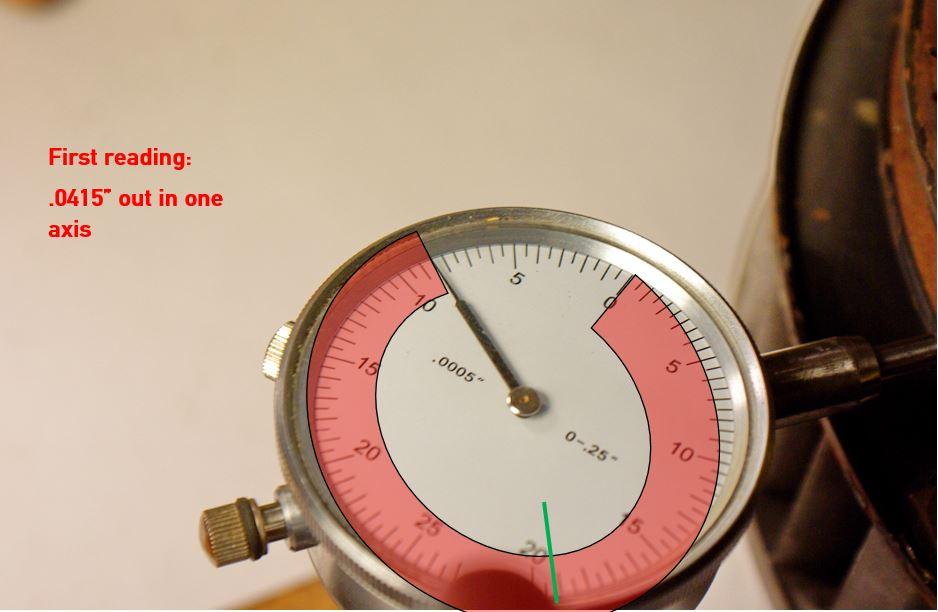 It was off by 0.0415"….so the target to move it to…is half of that or to the green line at approximately 0.02075"…shown by the green target line on the dial.



First adjustment tap: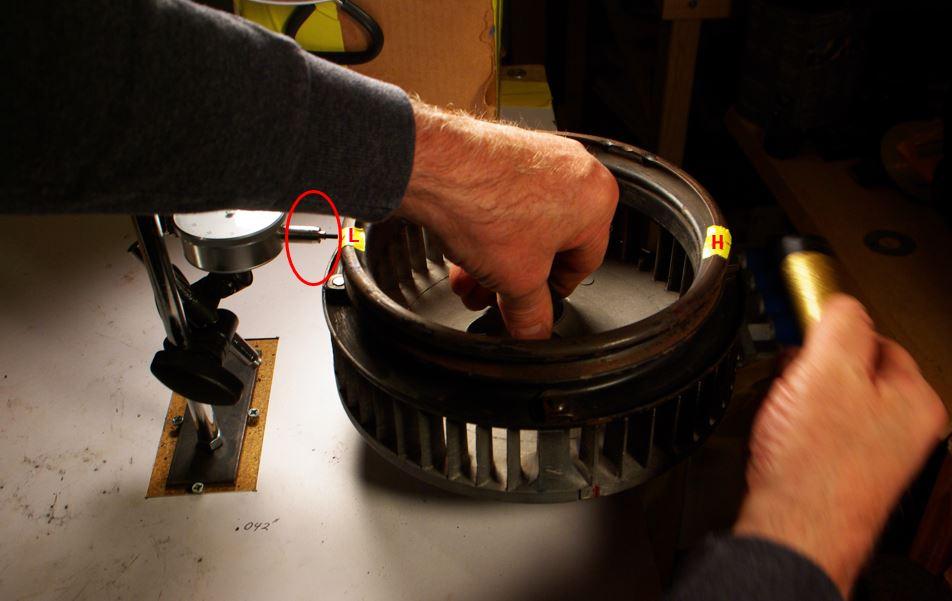 Notice the red circle showing the probe pulled back. I hold the fan down tight and tap lightly. It took me about 3-4 SINGLE taps and measures between each one…..to get a feel for what it took to move the fan pulley at all.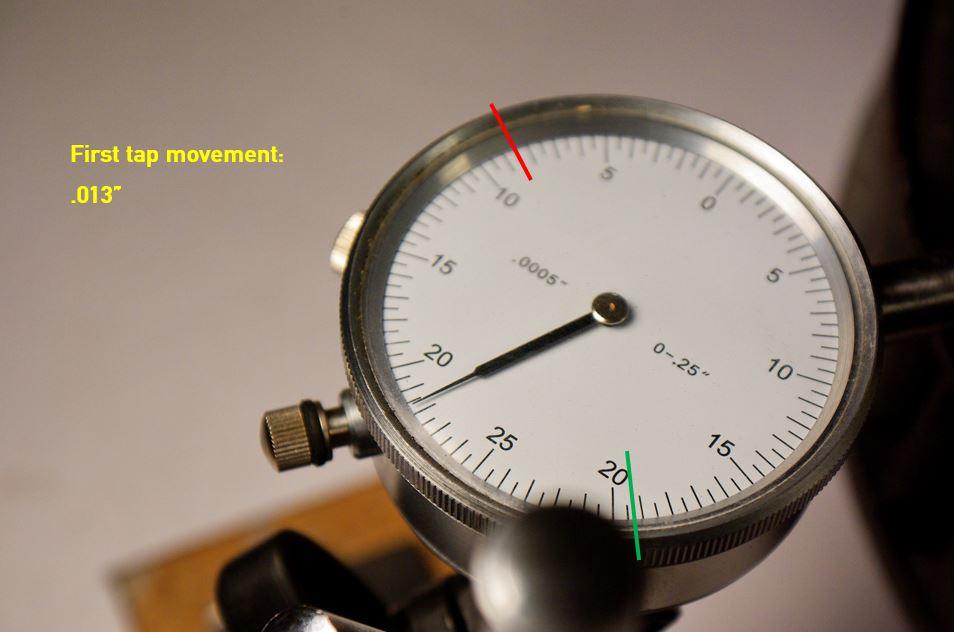 Not bad! I got about halfway where I wanted to! The red line is where we started. The green is the target.



Second adjustment tap: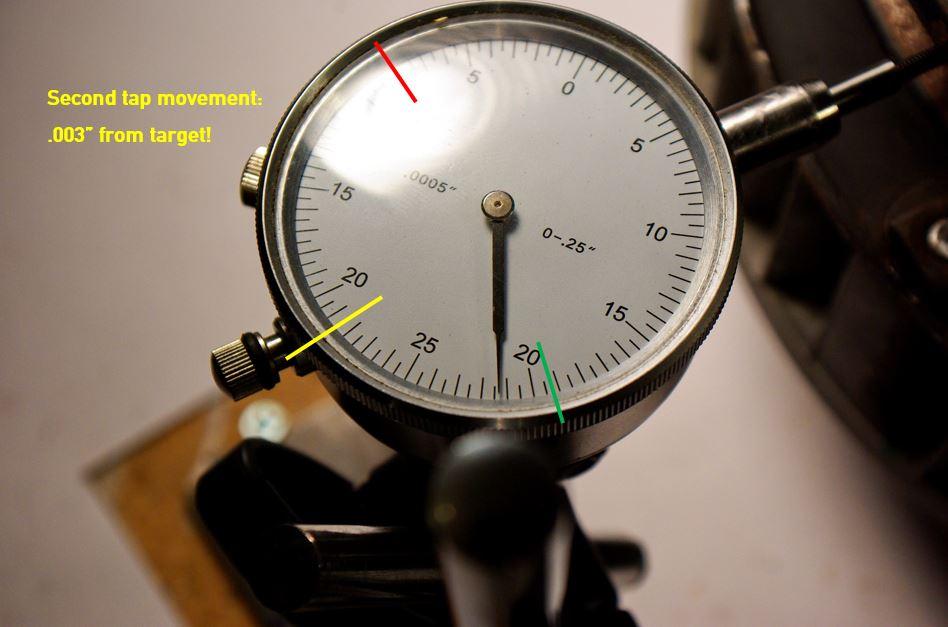 So I am roughly .002" from where I want to be…in about 10 minutes of work.
STOP ADJUSTING AT THIS POINT ON THIS AXIS!

There is no point in trying to get this axis dead on…YET….until you check the other axis 90° away to see how much if any you have slipped laterally.

The object to this point is to do your adjustment tapping…in a STRAIGHT LINE…across the center axis. Make sure you hold the fan very still and tap EXACTLY in alone across the center toward the indicator.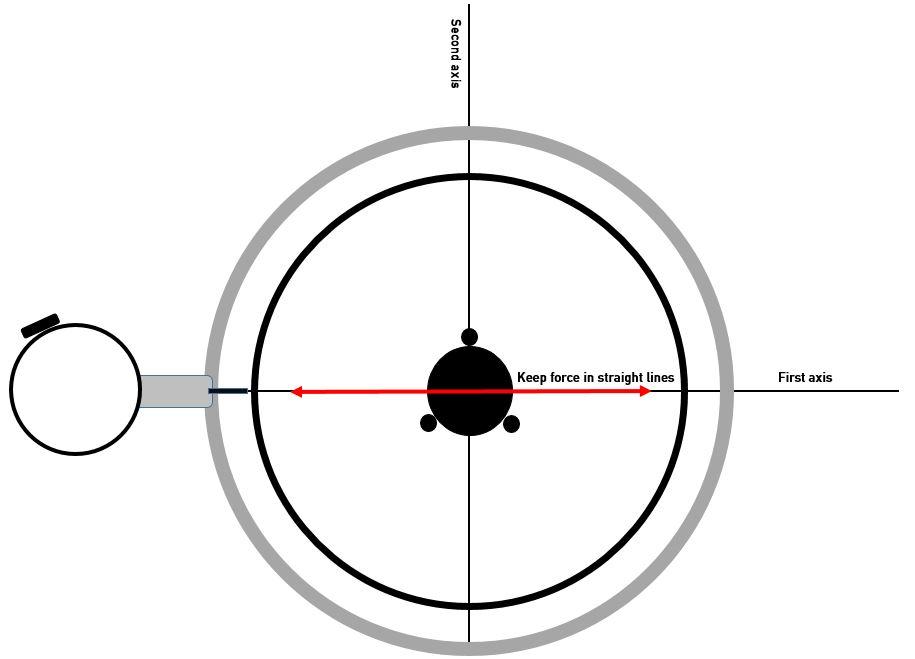 Once you are this close in the first axis….check for high point and low point…in the 2nd axis….just like we have already done in the 1st axis. Then make an adjustment to get it as close as the first axis.

Go back to the first axis and re-measure. Go back and forth and adjust as necessary. Get as close as possible.

So to this point we have read the four main points…in the two primary axes and have the high and low points for both….and have adjusted both. Ideally if they are within about .003" to .005" and you reach a point (like I did) where they just cannot be gotten closer….you are probably within the tolerance of the gauge, the roundness of the pulley and the roughness of the surface of the Vee groove.



Now….we switch to the minor axes on 45°: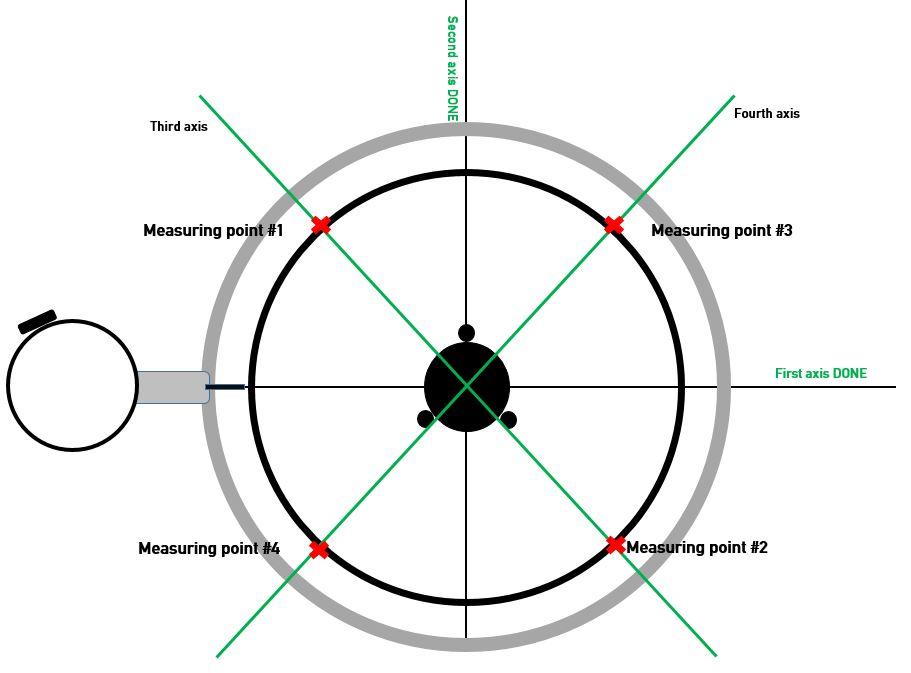 This is mainly just for checking….but you will adjust a little bit. If you are close on the first two axes…these should not be far off. Adjust as little as possible.

I am going to list the high and low points of these two minor axes as 1, 2 3 and 4 for the next readings.



NOTE

:…I started this set of measurements on third axis …..found out which end of the axis is the THE HIGHEST and called that "0"…so I set the gauge face to "0" there.
Then I lifted the probe and rotated the fan 180° to the low end of axis three to see how far off it is. By the way…this new "0"…was only .003" off from the very first point on axis #1 that we measured.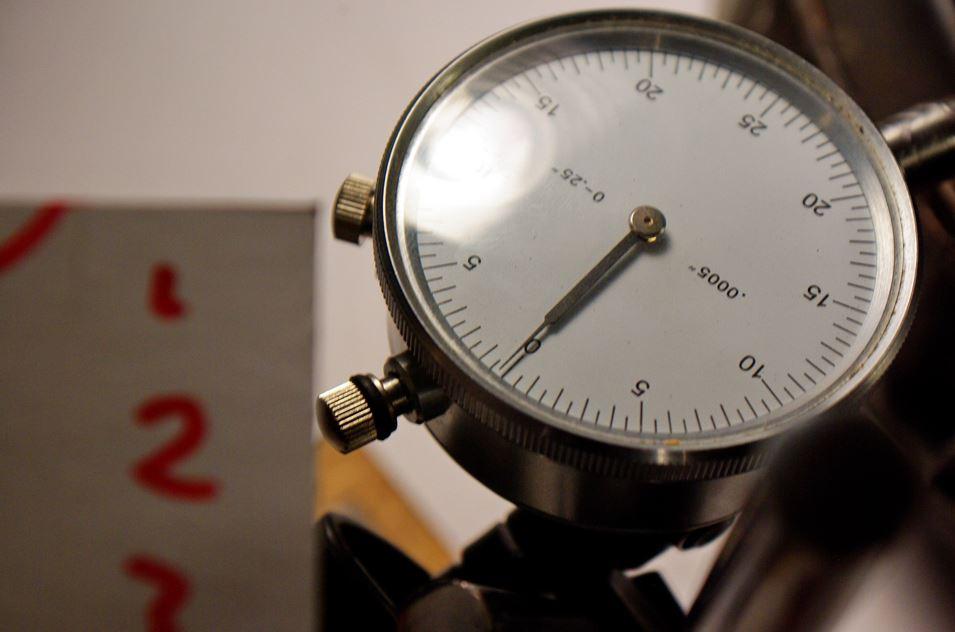 Here is that "0" setting on axis # three…we are calling point 1.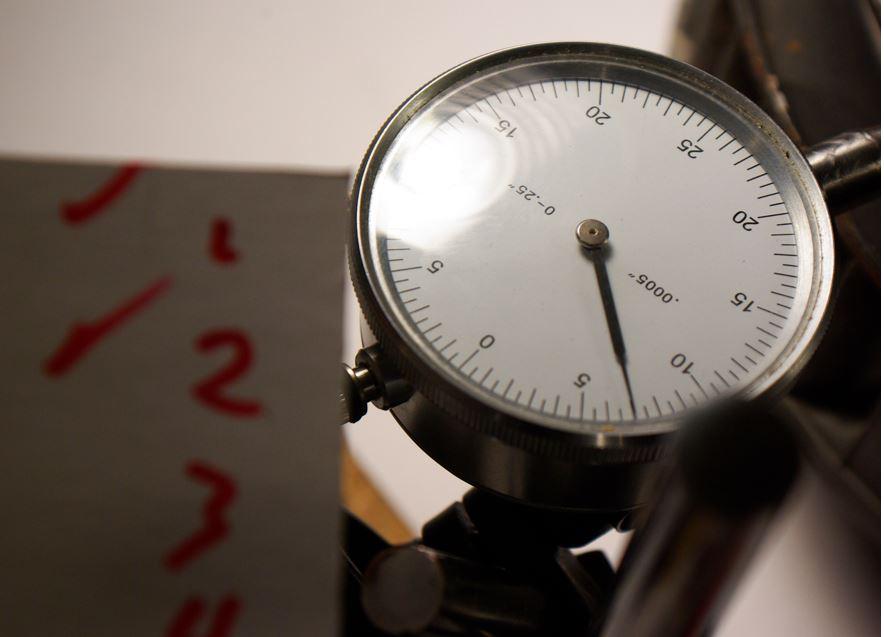 And here is the reading 180° away on the other end of axis three at point #2. We are only off by .007"…so we only have to adjust .003".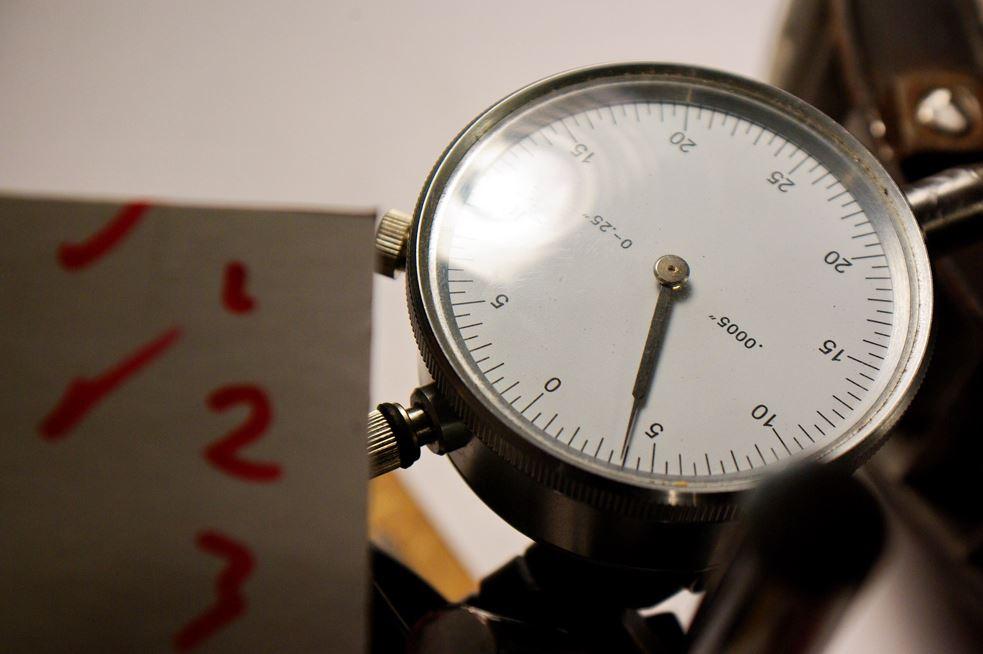 Here is that reading after a slight adjustment.

Then rotate 90° DIRECTLY to axis number 4 (do not get hung up checking your first two axes again right now).
Find the high and low end and high end.

Normally you will do just like I did above on axis number three…and set a new "0" on either the high or low end…..measure….. and adjust to split the difference.

BUT….without even setting a new "0"…this is what both ends of my axis number four (points #3 and #4) looked like:





And….in checking all 8 points around the fan….they all looked like this give or take .001"-.002".

So in reality we are within the noise of the pulley Vee and about the same amount out as the aluminum casting section.

I tightened the bolts carefully in a crisscross pattern in three stages….gently. Not having a torque value for this and knowing the hub bolts are 14 ft lbs to keep from bending the ears of the hub,,,,but these being clamping bolts…I went to 18 ft lbs.
Ray