Everett's 1955 Barndoor Kombi
History | Data | Parts Needed | Log - Updated March 6, 2003
This page was updated March 6, 2003
Click on any image to see it full size.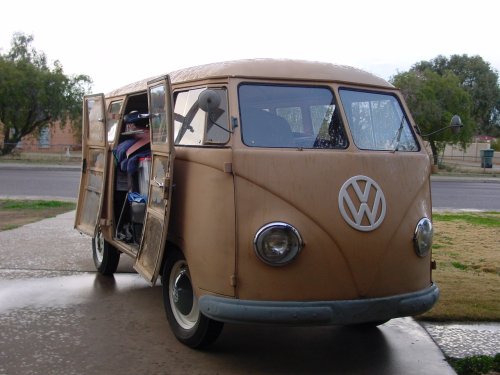 History
(As I know it, more research under way)
Purchased new in 1955 in Hollywood, CA by a surveying company, Pafford and Associates.
They supposedly wanted a Panel but the dealer was out of stock.
They used the Bus as a surveying platform, primarily the roof, until 1971.
In 1971, it was given as a retirement gift to Charles Wolnik, a resident of Los Angeles, California.
Charles retired to Henderson, Nevada, in 1988, taking the Bus with him.
Charles used the Bus in his carpeting business until 1995.
In 1996, Charles died, leaving the Bus to his half-brother, Lee Teschler.
Lee sold the Bus at the estate sale of his half-brother to Jerry Jess in 1996.
Jerry Jess towed the Bus to Phoenix, Arizona and began a restoration of the vehicle.
I bought it in 1997 and towed it to Concord, California.
In February, 1998, I towed the Bus back to Phoenix, Arizona following a job change.
I daily drove it for over a year and am now collecting all the parts necessary for a restoration
For the time being, I continue to drive it to shows, campouts, weekends, to haul stuff, etc..



Driving movie (344KB)
---
Data
VIN# 20-112737
Engine# 20-959033

Original Engine

Letter from Germany
Produced January 19, 1955
Left the factory on January 24, 1955
Destination was Competition Motors - Hollywood, CA, USA
Original color - not registered at factory (Dove Blue)

M-Codes
M13
Middle and rear seats with Masonite panels
M18
?
M20
MPH speedometer
M83
?
M86
?
M90
Safety Glass Windshields
M99
Tubeless Mud + Snow Tires
M114
6 pop-out side windows
---
Parts Needed
CASH WAITING!

Description
Part #
Comment/Condition
Front bumper brackets
...
NOS or mint used
Barndoor Kombi wing nuts and T-bolts - 8 sets
...
Any
Barndoor Kombi rear seat backrest wing nut - 1
...
Any
Barndoor spare tire strap & buckle
...
Decent or better
Front axle suspension arm dust seal/bushing (qty. 4)
211 405 129
NOS
Front suspension king and link pins
...
NOS
Barndoor Front Floor mat
...
NOS or mint used
Barndoor Cargo mat
...
NOS or mint used
Please e-mail me at [email protected] if you have any of these parts for sale. Thanks!
---

The dealer where my Bus was purchased in 1955.
---
---
---