Yancy and Courtney Everhart of Gilbert, Arizona, are the second owners of this 1966 Baltic blue Squareback. Here is the story of how they came to own it:

In July 1995, My wife Courtney and I were visiting her family in the bay area, California. We decided to take a trip down to Monterey to visit the aquarium and drive the coast. While in Monterey, we noticed the blue squareback in the parking lot of Del Mar French Laundry. We turned around and headed for the laundry. At the counter we asked who owned the blue Squareback, and the woman said "I do." Her name was Pauline, and she informed us that her Squareback was Gertrude. "I've had Gertrude forever" she said. When her husband Frank got out of the Navy, they bought a house in Pacific Grove (near Monterey) and in late 1965 purchased a new Squareback with a Blaupunkt radio.

In 1993, Frank bought her a new Ford Taurus to replace her VW. In 1995 when I asked if she'd sell the Squareback, she thought about it for a minute and said, "Well, Frank bought me a new car two years ago, and I still haven't driven it! Let me talk to him, but I know he wants me to start driving that Ford, I just love Gertrude."

After returning to Arizona, I called Pauline and asked if she had decided to sell the '66. She said that she could see my wife and me driving and taking care of it as much as she and Frank did and that she would sell the car to me if I still wanted it. I immediately agreed to the purchase, and borrowed the money from my parents. My dad loves to take road trips as much as I do, so that weekend he and I were on a one-way flight to San Jose with carry-on tool box luggage. After listening to Pauline's stories about her travels with long time friend, Gertrude, she and Frank went through the car showing us everything and anything they had done to her. Then they opened the trunk to reveal all spare parts and accessories they had purchased since December of 1965. They even included a meticulous collection of paperwork including the original title and date-stamped envelope it came in. Pauline had tears in her eyes as we left her beautiful home in Pacific Grove, California.

My dad and I took turns driving my new car home. My dad's first car was a 1964 sunroof Notchback that my grandparents bought for his high school graduation gift in 1966. He had something to compare this all-original Squareback to. We talked and enjoyed the beautiful vineyards and farms of California's countryside while cruising smoothly at 70 miles per hour, getting 28 miles per gallon. We made the trip problem free, until just outside of Quartzite, Arizona. Suddenly I noticed that the fuel gauge was heading toward reserve at a rate that I could almost see, and then we smelled the unnerving yet unmistakable smell of gasoline. My dad thought that something was wrong, but I said "Nah, that's just how some old VW's smell" – in hopes that there was nothing really wrong. We almost made it to Tonopah when we ran out of gas, and a huge desert rainstorm was heading our way. I opened the engine trapdoor to find the fuel pump diaphragm torn and dumping half of the fuel out of the weep hole in the pump. Luckily the highway patrol stopped and radioed for a tow truck driver to bring fuel. We bought the most expensive 5 gallons of gas ever! It was Sunday night, so we just kept driving Gertrude carefully and filling up at every station along the way until we hit Phoenix. Bright and early Monday morning I bought a new fuel pump.

In the nine years that I've owned the car I had the original 1600 rebuilt by Ken Moore at European Automotive in Phoenix. Ken did an excellent job keeping things as the factory intended. I now have over 35,000 miles on his rebuild without a problem. I joined the Air Force in 1997 and drove the Squareback cross-country twice, and drive it daily today without leaving one drop of oil on the ground. While Ken rebuilt the engine, he let me come to the shop to clean and detail the engine compartment. Ken also had each silver metal part zinc coated as they were originally, and the tin powder coated. While the engine was being rebuilt, I dismantled the heater boxes, including carefully removing the asbestos insulation and had the complete exhaust system ceramic coated by Jet Hot in Tempe, Arizona. I was able to replace all the insulation with new strap clamps for an original look and function. Ken rebushed the original Solex carburetors and sent the transmission out to Arizona Transaxle where it was rebuilt.

The car is all original except for an original color repaint that Pauline had done in 1989, and the rebuilt original drivetrain. The car still runs and drives like new.

Courtney and I intend on keeping Gertrude; we will eventually pass her on to our kids.
Squareback Details:
Original case, stock 1600, dual Solex 32 PDSIT, 6 volt
Original transmission
Original interior
One repaint in 1989 (outside only)
Roof rack
Parcel tray
Blaupunkt AM/FM/SW Frankfurt US
Ceramic coated original muffler and heater boxes

Parts wanted:
Uncracked 1966 dashpad
NOS black squareweave carpet (front and sides only)
Vendors Used:
European Automotive, Ken Moore
2102 N. 24 St
Phoenix, AZ 85008 - 2714
(602) 685-9303

Arizona Powdercoat
5301 E. Washington St
Phoenix, AZ 85034 - 2129
(602) 220-0553
Arizona Transaxle, Bill Capatch
3863 N. 38 Av
Phoenix, AZ 85019 - 3705
(602) 269-1444

Jet-Hot Coatings
1840 W Drake Dr Ste# 102
Tempe, AZ
(480) 838-1815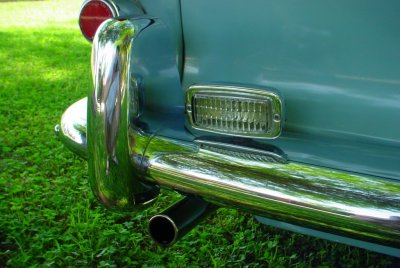 Speedometer driven backup light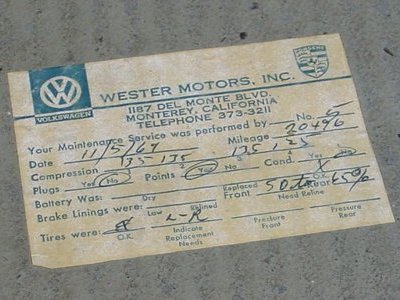 Original service sticker
| | | |
| --- | --- | --- |
| Tire pressure | Birth certificate | Trunk liner removed |
| Paint Sticker | | |
| Mudflaps | Spare tire well | GTV wheel |
| Mirror and visors | Blaupunkt Frankfurt | Original dash |
| Original upholstery | Pocketed visor | Original headliner |
| Rear cargo light | Original interior | Original door panel |
| Wool squareweave carpet | | |
| | Engine lid | Engine lid hanger |
| Correct coil | Generator | 1600cc engine |