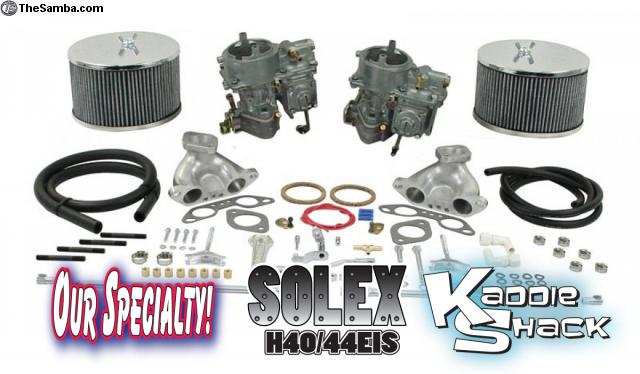 Kadron Solex Type2/4 Dual Carbs 1.7/1.8/2.0L Price: 589
These dual carburetors have proven themselves to be the absolute best bang for your buck or almost 40 years now. We challenge you to find a better horsepower-per-dollar-spent upgrade that can be bolted on to a Type 4 VW engine with the same results as these will give you. We at the Kaddie Shack love these carbs, and we're the recognized industry experts at tuning them and making them run at their very best. We can match them to any engine configuration.

Straight out of the box, these will work fine with your 1700 engine, perhaps with some jetting adjustments for altitude, exhaust system, etc. For 1800 and 2.0 liter motors, jetting and venturi changes are recommended for best performance. We can make these carbs work even better than factory with a few modifications, as found on our website. We have pioneered industry-leading improvements on these carburetors, and can make them run even better than new.

We offer fast shipping and great technical support, too!

********************************************************************

We can custom-tailor these carbs to your exact engine, and would be happy to work with you to make them the very best running carburetors that you'll ever get, straight out of the box. We'll also help with installation support and service, should you need anything at all. The Kaddie Shack is arguably the most recognized name in the VW industry for providing top-notch service and support for Kadron style carbs. Here are a few options that we offer to make these run even better than new:

- SVDA Modification: We are experts at modifying these carburetors work with SVDA (Single Vacuum Dual Advance) distributors, such as the famed Bosch "034" units, which we also offer for sale. These are not only widely recognized as being the very best distributors to use for power, but for mileage, too!!! We can modify your Kaddies to run in perfect harmony with the SVDA! Get rid of that "009" and the flat spot that goes with it and step up to the very best in performance.

- Custom Venturi Sizing: Each and every engine has its own needs for venturi sizing. If you run an 1700, you'll need a different venturi than a 1800 when set up properly, which will be different than one for a 2.0 liter, etc. Venturi sizing may also need change with weight of vehicle, altitude, compression ratio, and intended use (such as specialty circle track racing, off-road hill climbing, etc.). We can meet your needs with the correct venturi for your specific application. Venturis are available in 28mm, 29mm, 30mm, 32mm, 34mm, and 36mm.

- Custom Jetting: Along with Venturi Sizing, proper jetting is essential to how your car performs, responds, and how good your mileage is. These Kaddies are set up pretty close to stock 7:1-ish compression 1700 with standard exhaust with a stock camshaft at sea level with standard jets. If you run at other conditions, or run with other options such as larger venturis, you're likely to need help jetting to your specific needs. If you need help selecting the correct jets for your specific application, we'll be happy to help.

- Re-bushed Throttle Bodies: Our throttle bodies are the best in the business. Even brand new Kadrons (really EMPI-imported Solex-Brosol now), are notoriously loose and different from one set to another, even among a "matched" set of carbs. We can drill out your original castings and replace your bushings with PTFE Teflon-coated steel-backed bronze bushings. These will provide a much better seal in the throttle body against vacuum leaks, which Kadrons and other Solex carburetors are notorious for. These vacuum leaks can cause all sorts of havoc, especially when running on the idle circuit.

- Air Flow Improvement: We have designed and install our "Hi-Flo Kit", which moves the air cleaner bracket up and out of the carburetor throat for improved air flow and more power at high RPM's. We do not drill any goofy holes in your air cleaner lids, so your air cleaners can still be rotated to clear your fan shroud, body sheetmetal, or roll cage. Our Hi-Flo Kits even come with EPDM rubber seals for improved sealing of your air cleaners, and are available in two different styles: Our standard kit, or the off-road kit, which has a steel tube welded to the mount that extends into the float bowl and helps prevent fuel slosh during fast acceleration, hard cornering, off-road bumpy conditions, hill climbing, etc.

- Oil Breather Fitting Installation: Some prefer to run their oil breather from their generator stand into their air cleaner to burn their crankcase fumes. We can add a fitting in the bottom of the air cleaner base on the passenger's side to allow this to happen.

- Accelerator Pump Discharge Pre-adjustment: We can re-direct your discharge tube nozzles for maximum performance, and to eliminate the possibility of siphoning fuel from being misplaced in the venturis. We also pre-adjust your accelerator pump levers per your intended jetting/venturi/altitude combination, and shim them for maximum adjustment if necessary.

- Off-Road Prefilters: If you intend to use your carburetors in dusty conditions, we'd recommend adding pre-filters to keep the stock air cleaners clean. This option is available.

More info here:

https://shop.kaddieshack.com/BRAND-NEW-Kadron-EMPI-Solex-40-44-Carb-Kit-Type-2-4-43-44T4.htm



********************************************************************

KADRON REBUILDING, RE-BUSHING, SERVICE, AND PARTS: Call us at 714-7-KADRON or send us your carbs for work if you have some Kaddies in need of repair. Just visit KaddieShack.com, or email

[email protected]

for assistance. Feel free to download our FREE tuning and installation manual on the website.

_________________
Kaddie Shack -- High quality parts for air-cooled VW's. -- COME VISIT OUR RETAIL STORE AT 1609 WALNUT ST. IN PASADENA! -- We carry a complete line of quality parts and back it up with great service and help.

Kaddie Shack 5 minute YouTube Tour:
http://www.youtube.com/watch?v=gCGUlwzf3js

Our phone# is 714-752-3766, email:

[email protected]

.
Open M-F 10AM to 7PM

All of our Kadron carburetors and SVDA distributors come with a 90 day warranty & free tech service help. We want happy customers & repeat business. We specialize in Kadrons, & can rebuild, re-bush, and modify yours for use with any engine. They'll be BETTER THAN NEW when we're done with them.

Performance engines and front beams built to order - In-house dyno.
Advertiser information

Ad information

Advertiser:
Name:
Member since:

57baja
Jeff's Kaddie Shack
April 15, 2008


Location:
Ad placed:
Ad renewed:
Ad last edited:
Views:
Category:
Payments accepted:
Pasadena, California, USA Map it
Thu Sep 23, 2010 9:49 am
Wed Oct 20, 2021 11:20 am
Thu Jan 02, 2020 7:25 pm
5726
Vendors - New Parts - High Performance/Engine
Cash
Paypal
Money order/Bank check
Personal check



Watch this ad |
Watch this seller
Share:
Other ads from 57baja
See all | See ads in this category
| | | | | |
| --- | --- | --- | --- | --- |
| NEW Scat 1:25:1 Ratio Rockers | NEW Kadron Solex EMPI H40/44EIS Dual Carbs w/mods | [WTB] WTB your old crusty Kadron H40/44 EIS carburetors | 40 Piece Kadron Stainless Screw Set | BJ HD Front Sway Bars: Stock, Narrowed, Lowered |