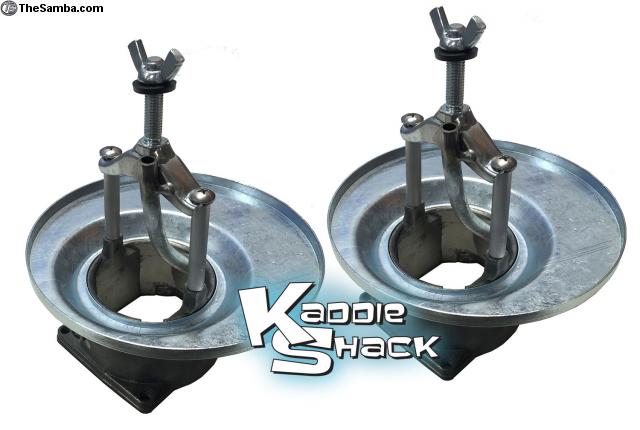 HI-FLO™ Off-Road & HP Upgrade Kit for Kadron Price: $39.95
A Kaddie Shack Exclusive, made by us in the USA!!!

This Off-Road Terrain kit is like our standard Hi-Flo kit, but is designed for abuse! Dyno and dirt tested: This kit is a winner. It will improve horsepower and help eliminate float bowl overflow. During fast take-offs, hard cornering, bouncing around in the rough stuff, hill climbing, slaloming, or power sliding, this kit will prevent your carburetors from flooding due to an overflowing float bowl spilling into your carburetor throat. The welded float bowl extension tube move thes vent for the float bowl up and out of the carb throat, while removing the airflow restriction caused by the crossmember for the air cleaner mount. This results in better breathing, increased horsepower, and better fuel control in rough terrain. There are no goofy holes to drill in your air cleaner lids. No silly zip ties, either. This kit is built for abuse. Two models are available: One to fit our standard late model air cleaners, and one to fit the original stock air cleaner perforated cans, which are slightly shorter. Kits will not fit the conical, pod, or low-profile style filters. These kits also come with EPDM rubber wing nut seals to prevent the wing nuts from coming loose, and ensure a positive air cleaner seal.
Carburetor main top and air cleaner base shown for demonstration only.
MADE IN USA at the Kaddie Shack.
One kit does both carburetors.

Order here:

http://shop.kaddieshack.com/HI-FLO-Off-Road-Rough-...egoryId=-1

_________________
Kaddie Shack -- High quality parts for air-cooled VW's. -- COME VISIT OUR RETAIL STORE AT 1609 WALNUT ST. IN PASADENA! -- We carry a complete line of quality parts and back it up with great service and help.

Kaddie Shack 5 minute YouTube Tour:
http://www.youtube.com/watch?v=gCGUlwzf3js

Our phone# is 714-752-3766, email:

[email protected]

.
Open M-F 10AM to 7PM

All of our Kadron carburetors and SVDA distributors come with a 90 day warranty & free tech service help. We want happy customers & repeat business. We specialize in Kadrons, & can rebuild, re-bush, and modify yours for use with any engine. They'll be BETTER THAN NEW when we're done with them.

Performance engines and front beams built to order - In-house dyno.
Advertiser information

Ad information

Advertiser:
Name:
Member since:

57baja
Jeff's Kaddie Shack
April 15, 2008


Location:
Ad placed:
Ad renewed:
Ad last edited:
Views:
Category:
Payments accepted:
Pasadena, California, USA Map it
Sat May 08, 2010 11:59 am
Wed Sep 08, 2021 11:33 am
Tue Sep 27, 2016 11:41 pm
8192
Vendors - New Parts - High Performance/Engine
Cash
Paypal



Watch this ad |
Watch this seller
Share:
Other ads from 57baja
See all | See ads in this category
| | | | | |
| --- | --- | --- | --- | --- |
| Kadron Velocity Stacks, add up to 17HP! | Pertronix 009 010 050 Distributor - ON SALE NOW | Hi-Flo™ Kit for Dual Kadrons - Add up to 8 HP | Pertronix Billet Flamethrower Distributor 019 050 | NEW Kadron Solex EMPI H40/44EIS Dual Carbs w/mods |