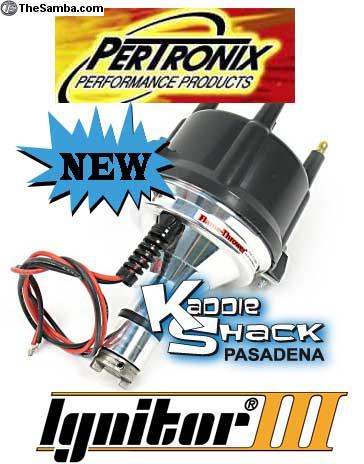 NEW PRODUCT Pertronix Ignitor 3 Billet Distributor Price: 249.95
Pertronix Billet Distributor with Ignitor III is our TOP OF THE LINE billet distributor... the very best we sell. It is the very best performance distributor on the market, packed with feature after feater. We challenge you to find a product that even comes close.

OPTIMIZED IGNITION ADVANCE CURVE: Comes with a factory preset performance ignition curve, set up specifically for high performance VW engines. For hot street or strip motors that need a custom curve, it comes with several springs and advance stopper cams that can be easily swapped to modify the curve to make over 80 different custom curves!

MULTIPLE SPARKS: Many manufacturers offer a seperate box to enable the distributor to send multiple sparks to the spark plug. With this distributor, it is already included. This ensures your total air/fuel charge is ignited as efficiently as possible to squeeze the very most performance out you possibly can, and prevent misfires.

BUILT IN REV-LIMITER: Another fantastic upgrade that is normally found in a separate box, a programmable digital rev-limiter comes built right into this distributor with LED read-out. For ease and convenience in programming, the rev limit can be set with a 9V battery and a pair of alligator slips. Limits can be set in 100 RPM increments.

ADAPTIVE DWELL: Changes the dwell angle of your spark, and automatically adjusts for subtle timing changes needed at higher RPM's to maximize efficiency and power.

CIRCUIT PROTECTION: Just in case it's accidentally wired backwards to the coil, circuit protection prevents it from becoming damaged.

IMPROVED SPARK ENGERGY: Up to 500% more spark energy delivered to the spark plugs.

START-UP SENSING: Senses start-up and develops more energy for improved starts.

Requires special spark plug wires that fit the male terminals on the cap. It is also recommended that a Pertronix Flamethrower III ultra low-resistance coil is used for optimum performance.

Order here:

https://www.shop.kaddieshack.com/NEW-Pertronix-Ignitor-III-Billet-Distributor-D7180810.htm

Installation and set-up video:

https://www.youtube.com/watch?v=n_xcrOD4Xqc

_________________
Kaddie Shack -- High quality parts for air-cooled VW's. -- COME VISIT OUR RETAIL STORE AT 1609 WALNUT ST. IN PASADENA! -- We carry a complete line of quality parts and back it up with great service and help.

Kaddie Shack 5 minute YouTube Tour:
http://www.youtube.com/watch?v=gCGUlwzf3js

Our phone# is 714-752-3766, email:

[email protected]

.
Open M-F 10AM to 7PM

All of our Kadron carburetors and SVDA distributors come with a 90 day warranty & free tech service help. We want happy customers & repeat business. We specialize in Kadrons, & can rebuild, re-bush, and modify yours for use with any engine. They'll be BETTER THAN NEW when we're done with them.

Performance engines and front beams built to order - In-house dyno.
Advertiser information

Ad information

Advertiser:
Name:
Member since:

57baja
The Kaddie Shack
April 15, 2008


Location:
Ad placed:
Ad renewed:
Ad last edited:
Views:
Category:
Payments accepted:
Pasadena, California, USA Map it
Thu Apr 03, 2014 5:52 pm
Thu Jul 11, 2019 6:51 pm
Wed Jun 19, 2019 6:47 pm
7162
Vendors - New Parts - High Performance/Engine
Cash
Paypal
Money order/Bank check
Personal check



Watch this ad |
Watch this seller
Share:
Other ads from 57baja
See all | See ads in this category
| | | | | |
| --- | --- | --- | --- | --- |
| BRAND NEW Kadron 44mm Throttle Bodies | Hi-Flo™ Kit for Dual Kadrons - Add up to 8 HP | Kadron Jetting Service | 930 CV Conversion Stub Axles - NEW | Kadron Rebuilding - As Seen In July, 2011 Hot VW's |